Education Department named one of the best in Ohio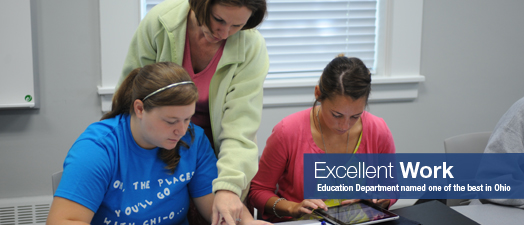 It didn't take any special recognition from the Ohio Board of Regents to convince Megan McGrath '10 of the quality of Marietta College's Education Department.
"I can most definitely say that my success since graduating is because of my education at Marietta," McGrath says. "I was hired immediately out of college by Wellston City Schools in Jackson County, Ohio. They loved the experiences I had from college and considered me an experienced teacher even though it was my first year as a professional. I was able to share strategies and techniques I had learned at Marietta with my coworkers and impressed my principals with the skills I had acquired."
It is this type of outcome that resulted in the Education Department being selected as one of the top performing teacher preparation programs in Ohio, which also meant being awarded an Ohio Educator Preparation Program Performance Grant.
Marietta will receive a restricted grant for $174,832.82 to support educator preparation initiatives. The award is based on Marietta College's score of
23.3290 in the evaluation process. The mean score of all Ohio educator preparation programs was 14.3935 with a standard deviation of 5.3308.
"It is a tremendous honor for Marietta College's Department of Education to have received this recognition from the state of Ohio. I am so proud of the faculty for their dedication to our students," says Dr. Karyn Sproles, Provost and Dean of the Faculty. "The 100 percent placement rate of our education graduates is a tribute to the work of the entire faculty who join with the education department to provide the liberal arts foundation and subject matter expertise that make Marietta graduates shine when they become teachers themselves. This prestigious recognition of our Education Department is well deserved indeed."
Dr. Dottie Erb, Chair of the Education Department, says funds from the award will be used by the Education Department to help support and expand current teacher education initiatives and to provide enhancements to the program.
"This award is the result of the dedication of the faculty and staff in Education as well as departments across campus who provide the content courses for our education students," Erb says. "It is truly a team effort to prepare the best teachers and I think we have demonstrated that."
McGrath says she is proud to be associated with Marietta's program, and believes it has one of the best reputations around the state of Ohio.
"I got such a diverse experience that it made me feel confident that I could work with any student in my age group (grades 4-9)," McGrath says. "The faculty members were fantastic, sharing their experiences and research in ways that made class engaging. They were able to balance the amount of work in the classroom so that the classes were challenging but not too intense when we also had work to do in our field experience." 
When McGrath was looking for the right education program, she says her visit to Marietta and getting to meet Erb made her decision easy.
"Meeting with Dr. Dottie Erb dissuaded all my fears about attending a college out of state as I was from Pennsylvania, and getting my education in a state that may not be reciprocal in certification. The program and the faculty impressed me so much that that didn't matter to me," says McGrath, who now teaches at North Allegheny School District in Pittsburgh. "They focused on the most relevant and innovative teaching strategies and 'hot topics' in the education world. Everything I was asked about in interviews and learned about in professional developments once I was hired were things that I had learned and knew about from my education at Marietta."
It was feedback from graduates like McGrath that helped Marietta in the rankings. Among the criteria used for the award are the design of Marietta's teacher preparation program, feedback from program graduates and the performance of graduates who are currently teaching in classrooms in Ohio.
The Board of Regents says the identification of metrics and the report format were developed in collaboration with representatives from the 13 public and 38 private educator preparation institutions in Ohio, state agencies and organizations. The Board of Regents works with the Ohio Department of Education and higher education institutions to collect data on metrics for the annual reports. These reports can be viewed on the Ohio Board of Regents website. 
The grant is funded through Ohio's Race to the Top grant from the U.S. Department of Education.