Education Department receives top marks from NCTQ report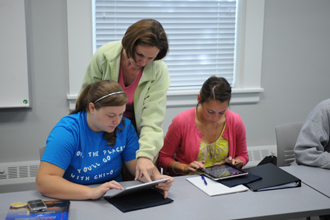 Marietta College has earned top national marks in an examination of university teacher preparation programs released this week by the National Council on Teacher Quality (NCTQ).
The NCTQ's inaugural Teacher Prep Review ranked Marietta College as one of only 105 programs in the United States earning three or more stars. In the state of Ohio, Marietta was one of just four programs to earn a 3-star rating or better.
Marietta received 3 ½ stars for its undergraduate secondary program. According to the NCTQ, the study examined 1,130 institutions that prepare 99 percent of the "nation's traditionally trained new teachers." The program took eight years and 10 pilot studies to develop.
"I am pleased to see our program at Marietta College receive national recognition for the hard work that we knew was taking place in and out of the classroom by our faculty and students," said Dr. Dottie Erb, Chair of the Department of Education. "Our reputation of producing quality teachers among area principals and superintendents has helped many of our graduates obtain employment locally."
Erb did caution that no one should put too much credence on any evaluation of a program by an outside entity like NCTQ. She added, "it's important to note that the accreditation and program approval process used by the National Council for the Accreditation of Teacher Education (NCATE) and the Ohio Board of Regents involve site visits to campuses and measure the performance of education candidates. This tends to provide a more complete and realistic picture of the performance of teacher education institutions."
"While we are pleased by the positive report, it's also important to remember that any group that evaluates a program like this is only getting a small snapshot of what happens every day on our campus," Erb said. "The criteria for this rating didn't always mesh with some of the more rigorous expectations that we have in Ohio. It's difficult for a paper-based review like the one completed by NCTQ to capture the innovative and highly effective, clinical preparation that most teacher candidates at institutions in Ohio are receiving."
The full Teacher Prep Review can be found on the National Council on Teacher Quality website at www.nctq.org.