Environmental Science Director named editor of water resource publication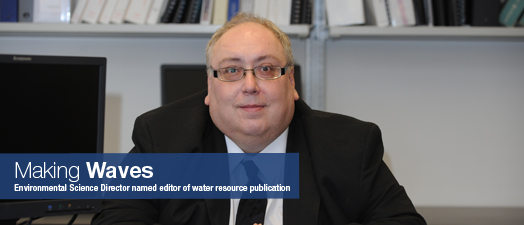 Dr. Eric Fitch, Director of Marietta College's Environmental Science Program, has been named Editor-in-Chief of Water Resources IMPACT. 
Water Resources IMPACT is one of two journals published bi-monthly by the American Water Resources Association (AWRA), the United States' largest professional membership association for the water resources field.
As the journal's newly selected Editor-in-Chief, Fitch will take on the responsibility for managing every aspect of producing the publication.
"I am assuming oversight for the whole process of producing Water Resources IMPACT, from recruiting excellent associate editors, to working with them and staff to establish a calendar of topics, to reviewing each issue for style," Fitch says.  "It's my job to make sure we publish good, timely issues."
While serving as Editor-in-Chief, Fitch hopes to broaden the publication's audience and move the journal from a bi-monthly to a monthly publication schedule. 
For the past 10 years, Fitch has served as an associate editor for Water Resources IMPACT, during which time he has been responsible for coordinating authors for various columns.  Additionally, he wrote his "What's Up With Water" column, in which he educated readers about global water issues. Fitch plans to continue writing the column while he serves as Editor-in-Chief.
"It's too much fun for me to stop," Fitch says. "I try to entertain and educate while editorializing about significant water resource issues."
Dr. Brenda Bateman, an AWRA board member, is looking forward to seeing what fresh perspectives Fitch brings to the publication in his new role as Editor-in-Chief.
"His previous works as an author and associate editor of Water Resources IMPACT have created a venue for water professionals to explore the spiritual, the social and the human side of water," Bateman says. "Members of the Association are eager to see what comes out of Dr. Fitch's shop as the new Editor-in-Chief of Water Resources IMPACT."
Water Resources IMPACT's previous issues have covered topics such as water resource history, water rights, water conflicts and water pollution. Currently, the publication's main audience includes AWRA's members, who are scientists, attorneys, public officials and other professionals working in industries related to water resources.