Esbenshade Series delivers strong programs for 2014-15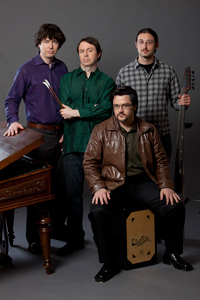 Marietta College's Frederica G. Esbenshade Series returns this fall for its 34th season with a variety of programs that should offer something to most fans of the arts.
All performances start at 7:30 p.m. and will be held in the Alma McDonough Auditorium unless specified otherwise. All performances are free and open to the public.
The Series kicked off Wednesday, Sept. 10 with Sherman Alexie, author of The Absolutely True Diary of a Part-Time Indian speaking about his life, and the book that serves as Marietta College's common reading this year.
Take the chance to enjoy the unique Cinema of Sound created by Cordis on Wednesday, Oct. 1 when they fuse together custom-made and traditional ethnic instruments. It's an innovative evening of music when the quartet builds upon the cello, concert cimbalom, piano, and percussion with one-of-a-kind creations such as the world's longest playing cylinder-driven music box.
The dynamic Ass3mbly closes out the fall schedule on Wednesday, Oct. 29. Come out to join this trio in championing the chamber music of our time for flute, piano, and percussion and hear a world premiere and three Ohio premieres!
The spring semester will also feature three performances, beginning with Award-winning composer Jake Runestad on Feb. 11. Considered, "highly imaginative… with big ideas" (Baltimore Sun) and "stirring and uplifting" (Miami Herald), Runestad has acquired the reputation as one of the most creative and innovative composers of his generation. The evening's performance will include some of Mr. Runestad's choral works presented by the Marietta College Concert Choir (Daniel G Monek, conductor) and will feature the world premiere of a new work written especially for this occasion.
A week later, at 7 p.m., Feb. 17, painter and photographer Nancy Manter will have a presentation. Her work is based on the elements of weather, the environment and landscape. She will hold a three-day workshop for students and complete site-specific work based on local weather patterns.
The Series wraps on March 17 with The Rose Ensemble who will be performing Land of Three Faiths:  Voices of Ancient Mediterranean Jews, Christians, and Muslims. Don't miss this critically acclaimed ensemble perform this program that embarks on a fascinating exploration of language, spirituality, and cultural exchange.
Established through a generous gift in 1980, the series is endowed by the Frederica G. Esbenshade Memorial Fund to bring lectures, performing artists, and programs in the humanities to the Marietta community. All Esbenshade events are free and open to the public.