Etta Express receives National Championship rings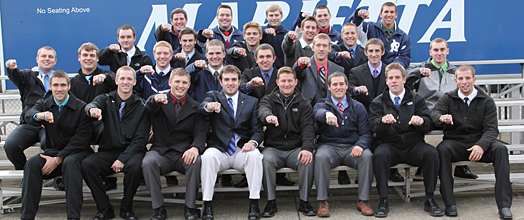 Marietta College's two-time NCAA Division III National Championship baseball team was back together for the first time in five months.
The Etta Express had a good reason to return to Marietta.
At halftime of the Marietta-Otterbein football game, the players, coaches and support staff were presented their 2012 championship rings by President Joe Bruno.
Marietta had 18 players on last year's roster that won championships in 2011 and 2012. Nine times in the Mideast Regional and World Series, Marietta faced elimination and each time Coach Brian Brewer's squad won.
The Etta Express won the program's first back-to-back titles by defeating Wheaton 7-2 in Grand Chute, Wis.
Marietta opens the 2013 season on March 2 against Anderson (Ind.) in Xenia, Ohio.