Feeling good about the Class of 2014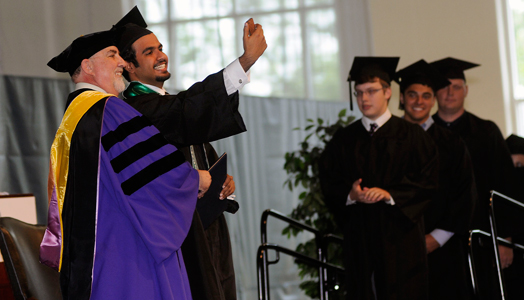 On a day typically filled with smiles, hugs and tears, Marcia Meyer gave Marietta College's Class of 2014 one more reason to feel good about the day and the four years they spent on campus.
"You feel like a giant hug. You're a community within a town. Growing in your relaxed environment is an explosion of creativity and service to others. You're a home away from home," said Meyer while delivering the keynote address at Sunday's 177th Commencement ceremony. "Your seven core values are strong. You are the college version of 'Cheers' — where everyone knows your name. You are encouraging, supportive, positive, helpful, honest, considerate, responsible, thankful, respectful, and you have helped build friendships that will endure for lifetimes. Marietta College, you are kind people."
For possibly the final time, Marietta College's Class of 2014 will be the last group to join The Long Blue Line on Mother's Day. On Sunday, May 11, approximately 300 graduates received their diplomas during commencement — and last one scheduled to fall on the holiday. Next year's commencement has been moved up a week earlier.
Even Meyer acknowledged the mother's at Dyson Baudo Recreation Center.
"It was difficult for students in this class who I've talked with to articulate how vital you have been to their success," Meyer said. "Their emotional connection and level of gratitude to you confirms that there is truly enormous strength in the gentle kindness displayed by mothers."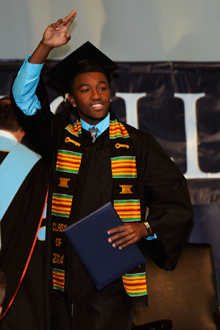 ​In delivering his charge to the graduates, President Joseph Bruno joked about how often he is stopped on The Christy Mall to throw a pie or other object at students.
"This is always in support of a worthy charity or cause, and I make it a regular practice to contribute without exercising my throwing rights," he said. "I have a personal rule against throwing things at students, partly because it seems inappropriate for a president, and partly out of the fear that you may be encouraged to return the favor." 
However, he urged them to continue throwing things at each other as a way to continue serving the greater good.
"Retain your passion for serving your communities, digital and other," President Bruno said. "It is a point of distinction for Marietta College, it is a point of distinction for our students and alumni, and it is, I hope, something you will continue for your benefit and for the benefit of others."
Members of the Class of 2014 received their diplomas from President Bruno and Provost Karyn Sproles during the indoor celebration. The day began with overcast skies and temperatures in the 60s, but as the ceremony began the sun began to shine and the temperature rose to a beautiful 73.
Jessica Johnson (Johnstown, Ohio) earned first place in the coveted Jewett Oration with "How do you measure your time at Marietta College?" Johnson reflected on how the Class of 2014 has developed into scholars and adults since arriving in the Fall of 2010. Tiésha Anderson (Germantown, Md.) finished second with "What would you do?"
"Marietta may be a small liberal arts college down by the river, but for each of us it was home for however brief of time," says Johnson, who earned a Bachelor of Arts in Political Science. "I hope as each of you look back on your time here at Marietta that you remember the satisfaction of getting your first A on a paper, or the laughter you shared with friends while sitting talking at Gilman, but most importantly the triumph you feel today as you walk across the stage and receive your diploma."
Lindsey Kudaroski (Washington, Pa.) earned valedictorian honors, while Margaret Posendek (Broadview Heights, Ohio) is this year's salutatorian. The Class of 2014 honored one faculty member — Dr. Ann Bragg, Associate Professor of Physics and Director of the Planetarium, as she was presented the Outstanding Faculty Award.
Presenting the Senior Challenge Gift of $1,605.14 was Kathryn Anderson (Walled Lake, Mich.) and Amy Kauffman (Carlisle, Pa.) to President Bruno. The Marietta College Alumni Association matched the class gift of $802.57.
At the conclusion of the ceremony, the graduates and their families gathered either on Fenton Court or The Christy Mall for snacks and a chance to share in the joy of being together as the Class of 2014 one last time.
RELATED LINKS
Photo Gallery (Flickr)
Photo Gallery (Facebook)
President Bruno's charge to the Class of 2014
Marcia Meyer's keynote address
Jessica Johnson's Jewett Oration
Tiésha Anderson's Jewett Oration
2014 Commencement Program
Alumni Welcome