Football to wear gray football helmets for first time in program history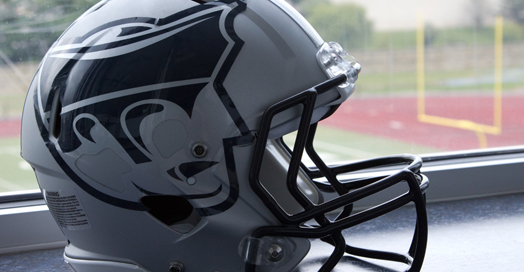 The Marietta Pioneers unveiled a matte gray football helmet with an oversized, but familiar Pioneer head and a navy blue facemask on Tuesday at Don Drumm Stadium. The helmet also includes a bold navy blue stripe with white pinstripes down the middle.
It is the first time in the 119-year history of the program that Marietta will wear a gray helmet. Marietta has adorned dozens of different helmets over the years (see below).
"I'm pumped up about the new-look helmet — it makes me want to strap one on and go out there and play for the Pioneers," says first-year coach Andy Waddle, who played collegiately for Wittenberg. "We wanted our players to have pride in playing for the Pioneers and to set the tone that it is a new era of Marietta College football."
Waddle says they won't add the new logos to all of the helmets until a day or two before the Pioneers open up the regular season at Case Western Reserve in Cleveland on Saturday, Sept. 7.
Waddle will show the players, which number around 140, the helmet when they return to campus on Wednesday, Aug. 14. Practice officially begins Thursday, Aug. 15 at Don Drumm Stadium.
The home fans will get to see them for the first time in action when Marietta hosts Capital on Saturday, Sept. 21. Kickoff is scheduled for 7 p.m. and the game will be televised live by WTAP-TV in Parkersburg, W.Va.
"We are really excited about the look and we really think our players, fans and alumni will appreciate it as well," Waddle says. "We wanted to make a statement with the helmet and the logo really pops off the helmet and gives us a look that is all our own."
Ryan Zundell '93, Marietta's Director of Creative Services, created the helmet design in the spring. After sharing dozens of designs, the coaching staff selected the matte gray helmet with the oversized Pioneer head and large navy blue stripe. BSN Sports, Marietta College's exclusive uniform provider, produced the helmets this summer.
"Changing helmets and uniforms is fairly common these days for college programs, but it still creates a certain amount of buzz among the players and alumni," Zundell says. "It was an honor to be asked to do it and I am extremely pleased with the outcome."
Zundell played a critical role in developing the College's graphic identity policy in 2003, which included the logos for athletics. He has also designed the logo for the Ohio Athletic Conference, College Sports Information Directors of America and the Marietta baseball team's back-to-back national championships.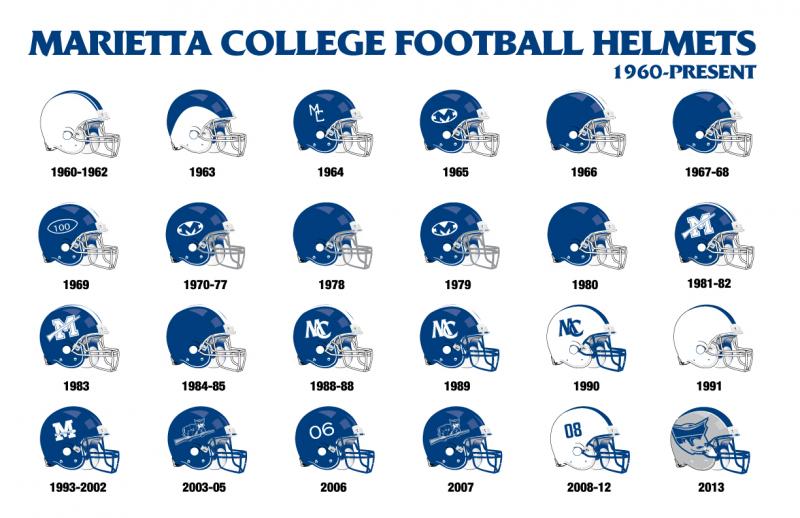 ​