Forbes places Marietta among best U.S. Colleges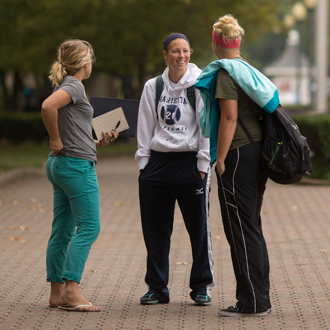 Forbes Magazine ranks Marietta College among "America's Top Colleges," according to its 2014 rankings, which were released recently.
Marietta is ranked 414th overall in this year's Forbes' ranking of the 650 best colleges and universities in the nation. Marietta also ranks 18th among all Ohio four-year schools.
The rankings, released July 30, include "650 of the best schools in the nation," according to Forbes. In announcing the rankings, magazine editors said: "The Forbes list of 650 schools distinguishes itself from competitors by our belief in 'output' over 'input.' … Our sights are set directly on ROI: What are students getting out of college?"
Marietta President Joseph Bruno is pleased the College continues to receive this type of recognition for the quality of education that is provided on campus each year, but also notes it is just a snapshot of what makes Marietta great.
"Inclusion on Forbes' annual ranking is a reflection of the high quality education we provide, but also the outstanding students," Bruno said. "It is interesting to see that 'outcomes' is something they focused on in determining the rankings. We have been focused on positive outcomes as well and I believe we are successful in providing our students with the tools necessary to succeed once they leave our campus."
For the 2014 rankings, Forbes partnered again with the Washington, D.C.-based Center for College Affordability and Productivity. The center used 12 factors in five categories to calculate the rankings: student satisfaction; post-graduate success (including salary data); student debt; graduation rate; and academic success (including, the numbers of students who win prestigious awards such as National Science Foundation fellowships and the numbers who go on to earn doctoral degrees.)
Leading the rankings are Williams, Stanford, Swarthmore, Princeton, MIT, Yale, Harvard, Pomona, U.S. Military Academy and Amherst.
Read more about Forbes Magazine's "America's Top Colleges" list at www.forbes.com/top-colleges.