Forensics finishes 30th at Pi Kappa Delta Nationals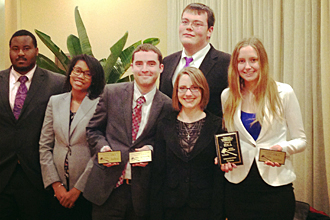 Marietta College's forensics team closed out the 2013-14 season by earning four awards and finishing 30th in the Overall Individual Events Sweepstakes at the Pi Kappa Delta National Comprehensive Tournament in Indianapolis, Ind.
Kayleigh Bondor '17 (Canton, Ohio) was a quarterfinalist in Extemporaneous Speaking and received an excellent rating in Impromptu Speaking. Teammate, Ryan Childers '16 (Vincent, Ohio) also received an excellent rating in Impromptu Speaking.
Childers also placed 11th in Junior Parliamentary Debate Speaker and teamed with Clayton Evans '17 (Salem, W.Va.) to finish 17th in Junior Parliamentary Debate.
Marietta also placed 36th in the Overall Speech and Debate Combined Team Sweepstakes. A total of 80 schools participated in the event.
Other Marietta students participating were: Chanell Cornett '17 (South Euclid, Ohio), Darnell DePriest '16 (Cleveland, Ohio) and Elaina Eakle '16 (Whipple, Ohio).
Dr. Tomeka Robinson, Director of Forensics, and Sabrina Wittekind, Assistant Director of Forensics, coach the team.