Forensics finishes second in national event at Simpson College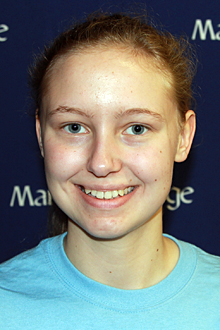 Another strong performance by Kayleigh Bondor '17 (Canton, Ohio) helped Marietta College finish second in the Public Communication Speech & Debate League Nationals at Simpson College in Indianola, Iowa.
Bonder finished second overall in the Individual Events Sweepstakes to pace the Pioneers, and she is the National Champion in Radio Broadcasting. Bonder also placed second in Editorial Impromptu Speaking, fifth in Poetry Slam and teamed with Elaina Eakle '16 (Whipple, Ohio) to finish sixth in Improvisational Duet Acting.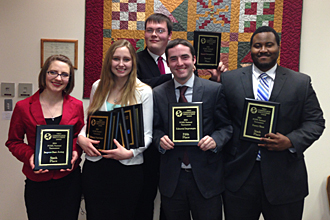 Other Marietta placers were: Ryan Childers '16 (Vincent, Ohio) with a fifth-place turn in Editorial Impromptu Speaking and Darnell DePriest '16(Cleveland, Ohio) with a sixth-place finish in Poetry Slam. Also competing for Marietta was Clayton Evans '17 (Salem, W.Va.).
Dr. Tomeka Robinson, Director of Forensics, said this year marked the inaugural season for the Public Communication Speech and Debate League.
"It is designed to expand college forensics beyond the traditional events and reach even more students," she said. "Even with a team comprised of all freshmen and sophomores, the Pioneers walked away with 9 awards from this competition and I couldn't be prouder."
Schools in attendance included AIB College of Business, Ball State University, Northwest Missouri State University, Ohio University, Ottawa University, Ohio State University and Simpson College.
Robinson and Assistant Director of Forensics Sabrina Wittekind coach the team.
The Pioneers final competition of the season will be the Pi Kappa Delta National Comprehensive Tournament in Indianapolis, Ind., on March 20-23.