Forensics team pleased with showing at home events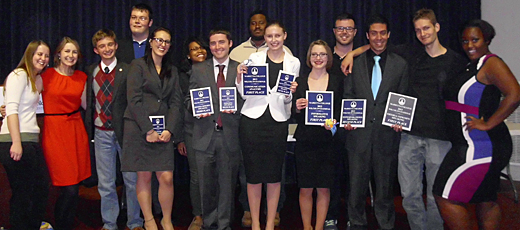 Marietta College played host to its two annual forensics competitions on Nov. 1-2, with students from its own debate team nabbing first place wins in three of the seven events they competed in.
Friday, Nov. 1 was the third annual O' Donnell Debate, and Saturday, Nov. 2 was the 63rd annual Ruth A. Wilcox Forensics Invitational Tournament. Eleven schools from six states were in attendance, Director of Forensics Tomeka Robinson said. Students from the Marietta College debate team earned 12 awards total that weekend.
Kayleigh Bondor '17 (Canton, Ohio), Elaina Eakle '16 (Whipple, Ohio), and Eric Miranda '15 (Olmsted Falls, Ohio) were the three first-place recipients. Bondor was both first-place winner and Top Novice in Communication Analysis. Eakle received first place and Top Novice in Informative Speaking, while Miranda took the win for Editorial Impromptu Speaking.
In addition to these awards, Bondor also received fifth place in Editorial Impromptu Speaking. Miranda placed second in Extemporaneous Speaking, and was a semifinalist in Parliamentary Debate along with his partner Ryan Childers '16 (Vincent, Ohio).
Childers placed third in Editorial Impromptu Speaking and fifth in Impromptu Speaking. Chelsea Robinson '15 (Sulphur, La.) also took one fifth-place win in Dramatic Interpretation.
Several Marietta Forensics team alumni returned to campus to help judge the tournament, including Ben Reese '13, who is studying at the University of Michigan Law School. Reese was not allowed to judge the Marietta College competitors due to having graduated so recently, but he said the experience was eye-opening regardless.
"You don't really realize how much you miss it until you return as an alumnus," he said. "Beyond realizing how difficult it is to write helpful comments at the same time you are attempting to listen to and understand a speech, seeing things from a judge's perspective made me appreciate even more than I already did how much my own speaking ability benefited from participation in (Forensics)."
Reese said he was impressed at the team's performance and sportsmanship.
"Even those team members who are not yet ready to compete were there to cheer their teammates on and help the tournament run smoothly," he said.
Eakle, a newer face in the forensics world, said the tournaments "far exceeded" her expectations.
"I am very proud to have gone from not knowing what forensics was a year ago to winning first place in informative speaking," she said. "I think we have an incredibly talented team. Forensics is like a family at Marietta and I'm proud to be a part of it."
Schools in attendance included Butler University, Cedarville University, Fairmont State University, Grove City College, Heidelberg University, Hillsdale College, Malone University, Muskingum University, Ohio University and Simpson College.
Adjunct Professor Sabrina Wittekind, Assistant Director of Forensics, helps Dr. Robinson with the coaching responsibilities for the program.