Forensics team ready for home tournaments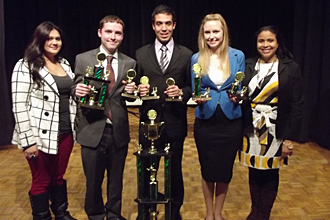 Three students on the Marietta College debate team competed in the Marshall University Forensics Tournament on Oct. 25-26, bringing back seven awards for the College's record.
Kayleigh Bondor '17 (Canton, Ohio) was the top team player during the weekend, finishing third in the Novice Impromptu Speaking competition. Following closely was Ryan Childers '16 (Vincent, Ohio), who took fourth place in Parliamentary Debate Speaker.
In Duo Improvisational Speaking, Bondor and Eric Miranda '15 (Olmsted Falls, Ohio) both received sixth place. Miranda also brought home a sixth-place win in Parliamentary Debate Speaker.
In the Team Sweepstakes event, Marietta College placed third in the Limited Entry Sweeps and sixth in the Overall Team Sweeps.
"The tournament provided a valuable learning experience for all involved and while the team came away with many impressive accomplishments, it was particularly gratifying to watch Kayleigh place third in novice impromptu," Miranda said. "I am very excited for all competitors as we prepare to host schools from as far away as Iowa for this year's O'Donnell Debate and Ruth A. Wilcox Forensics Invitational this upcoming weekend."
Marietta was one of 12 schools competing in the tournament from several states including Illinois, Kentucky, Ohio, West Virginia, Kansas and Iowa. Those schools were Alderson-Broaddus University, Illinois State University, Marshall University, Miami University, Muskingum University, Ohio University, Ottawa University, Otterbein University, Simpson College, University of Kentucky and Western Kentucky University.
Dr. Tomeka Robinson, Assistant Professor of Communication Studies and Director of Forensics, said there will be 10 colleges and universities from five states competing in this weekend's O'Donnell Debate and Ruth A. Wilcox Tournament. In all, those schools will have 115 entries.
Marietta's Forensics squad includes Chelsea Robinson '15 (Sulphur, La.), Chris Sanders '14 (Willoughby, Ohio), Clayton Evans '17 (Salem, W.Va.), Darnell DePriest '17 (Cleveland, Ohio), Haley Bibbee '17 (Cottonport, La.), Chanell Cornett '17 (South Euclid, Ohio), Elaina Eakle '16 (Whipple, Ohio), Jacob Markiewicz '15 (Winfield, Tenn.), Bondor, Childers and Miranda.
The O'Donnell Debate Tournament honors Drs. Jim and Mabry O'Donnell for their contributions to the Forensics program. The Ruth A. Wilcox Forensics Invitation Tournament honors the late Dean of Women and Professor of Speech, Drama and Debate.
"The Marietta College Forensics Team is always excited to welcome some of the greatest speakers and minds in the country to our beautiful campus," Dr. Robinson said. "The entire squad has been hard at work getting ready not only for their events for the competition, but also planning for our guests. I am especially thankful for the alums of the program that are traveling back to Marietta to help judge and host. They truly embody the spirit of The Long Blue Line."
Adjunct Professor Sabrina Wittekind, Assistant Director of Forensics, helps Dr. Robinson with the coaching responsibilities for the program.