Forensics ties Purdue after two-day competition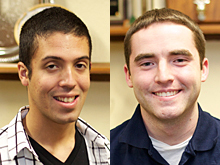 Marietta College's forensics team tied Purdue for 12th place in the team sweepstakes during a two days of competition in Indianapolis and Oxford, Ohio, on Jan. 19-20.
At the Butler University Tournament, Eric Miranda '15 (Olmsted Falls, Ohio) and Ryan Childers '16 (Vincent, Ohio) teamed up in Parliamentary Debate and were semifinalists.
At Miami University, Andrew Kasick '13 (Marietta, Ohio) was a semifinalist in Impromptu Speaking.
Other Marietta participants were Ben Reese '13 (Marietta, Ohio), CJ Maffris '13 (Worcester, Mass.), Chelsea Robinson '15 (Sulphur, La.), Andrew Looker '16 (Canton, Ohio), Aaron Dauterman '16 (Canton, Ohio), Cody Clemens '13 (Malta, Ohio) and  Guershley Pierre '15 (Lithopolis, Ohio).
Dr. Tomeka Robinson, Director of Debate, along with Dr. Jamie Moshin and Sabrina Wittekind '12, graduate student, coaches Marietta.
Competing against Marietta at both events was Berea College, Bradley University, DePauw University, Eastern Michigan University, Hillsdale College, Illinois State University, Indiana University Purdue University-Indianapolis, Ivy Tech Community College, Marian University, Miami University, North Central College, Ohio University, Purdue University, University of Indianapolis, University of Illinois at Urbana-Champagne, University of Kentucky, Wayne State University and Webster University.