Former bank CEO to be honored during College's 181st Founders Day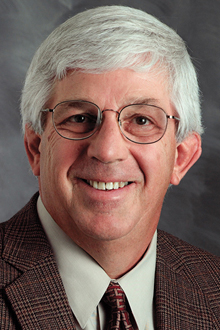 James A. Meagle Jr., a long-time fan and supporter of Marietta College athletics who died in 2015, will receive the 2016 Community Service Award during the annual Founders Day celebration on Thursday, Feb. 18.
Meagle, who died on March 22, 2015 after a short battle with cancer, joins a list of Who's Who in Marietta who have received this award. Past recipients include Alice Chapman, Marilyn Ortt, Roger Kalter, Larry Holdren and Jeanne Tasse.
"Jim would have been so pleased to get this award. Education was always very important to him and he had a strong connection with Marietta College and Marietta City Schools," said Laurie Meagle, Jim's widow. "Our family is honored that Marietta College is paying tribute to Jim in this way."
A native of Marietta, Meagle graduated from Wittenberg University in 1967 before returning to his hometown and entering the banking business. He progressed through the management of American Bancorporation becoming president and CEO of the Dime Bank in 1984.
In 1998, Meagle led a group of investors in founding Third Street Bankshares, which led to the establishment of Settlers Bank of Marietta, where he served as president, CEO and director until 2012.
Throughout his professional career, Jim maintained a close relationship with Marietta College athletics. He was awarded the M-Team Distinguished Service Award in 1995 and the Honorary Alumnus Award in 1996.
Laurie Meagle said her husband learned how difficult the education field could be when he spent half of a year teaching at Lawrence High School.
"That's when he learned what it meant to be a teacher, and how hard it really is," she said.
One of Jim's closest friends was Debbie Lazorik, who retired from Marietta College after the 2014-15 academic year. She said he was one of the most influential people in her life.
"He valued education as evidenced in his work with the school board, Marietta College, the Settler's Bank scholarship for the College and in providing banking internship opportunities," she said. "In addition, Jim served as a mentor to many young people, helping them to grow and develop in their professional and personal lives."
Marietta College will be celebrating the 181st anniversary of its charter during Founders Day, which begins at 7 p.m. in the Alma McDonough Auditorium. Faculty awards will also be presented during the event and Dr. Henry Earl "Doc" Holliday '70 will deliver the keynote address.