Former baseball star enjoying burgeoning film career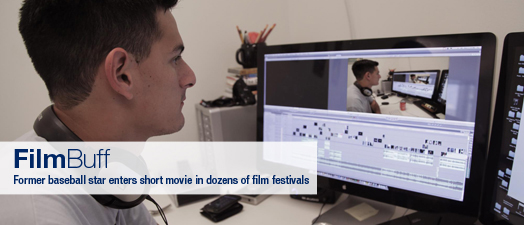 The name Mike Eisenberg '09 often evokes remembrances of a hard pitch exploding into a catcher's glove, the number 30 billowing on the back of a pinstriped uniform and the dust of the diamond floating around a team of celebrating championships.
But this former Etta Express star has taken his career off the mound in recent years. Now he pitches screenplays instead of fastballs, sports a video camera in place of a glove. He has transitioned from the titles of an All-American pitcher and co-MVP of the 2006 NCAA Division III Baseball Championship to director, producer, writer and editor.
Eisenberg's collegiate baseball career began at Marietta in 2003, and by 2006 he was selected in the eighth round by the Cleveland Indians. When his goal to play in the major league ended with his release, Eisenberg began the pursuit of his second dream in life: filmmaking.
After returning to Marietta to finish his degree in Journalism, he enrolled in Tribeca Flashpoint Media Arts Academy in Chicago and graduated from the Film Directing program in 2011.
"My goal when I went there was to leave as the standout student, and I do believe I accomplished that," Eisenberg says. "Filmmaking is the best possible way to explore my creativity in a way that blends my desire to tell stories and entertain people with my passion for leadership."
Eisenberg still resides in Chicago, and since his graduation, has founded Tall Tale Productions, a studio he operates with his fiance and former Flashpoint classmate, Kailey Brackett. Eisenberg's work spans a range of topics and genres, from corporate product spots to a brief documentary on the NATO Protests to short clips that artistically highlight daily tasks, like eating cereal.
"My inspiration comes from all over the place. It strikes very randomly. Admittedly, the place I get my best ideas is in the shower," Eisenberg says. "I love finding something entertaining in the otherwise mundane — a weekend boat trip, a protest in Chicago, a simple breakfast, or a game of pool."
Eisenberg's most celebrated production to date is a short film entitled Stitches, which he submitted to more than two dozen film festivals. The semi-autobiographical piece follows a young boy who grieves the loss of his grandfather through their shared love of baseball. Eisenberg was able to get Stitches a distribution deal on DirecTV and AT&T UVerse on the Shorts HD channel.
His latest production, Whoop Dreams, is also drawing praise and has been submitted to a number of film festivals. "A digital distribution company wants to distribute Whoop Dreams AND Stitches on their connected networks via Hulu, Amazon PRime, Roku, and down the road Netflix," Eisenberg says. This success has allowed Eisenberg to focus solely on working at Tall Tale Productions in Chicago.
"We're so busy and having so much success, I was able to quit my job," Eisenberg says.
What makes Eisenberg's work memorable is that he seizes small moments of detail, moments that many filmmakers exclude: the reflection of lake water glimmering against the side of boat, the moment when a woman looks up past her eyelashes at the man she loves. In this way, his work employs each of the physical senses, capturing sights, sounds and feelings to transform these moments into universal experiences.
"If there's one thing I believe my work should do, it is entertain and engage the audience," he says. "And I think the best way to do that in filmmaking is through great visuals and compelling stories. So far, I think I've done that."
Killian Heilsberg, Artist-in-Residence at Flashpoint and a former professor of Eisenberg's, was more than eager to reflect upon her time instructing the filmmaker. She believes his drive to succeed is what sets his work apart.
"Mike only has ambitious goals. It's awesome, and he has as good a shot as anyone else to make it happen. He will put in the time and effort. He will keep pushing himself to find the right place to be to do the right project and learn the right lesson. It's just Mike's way," Heilsberg says.
While he continues to work on short films and advertisements through his Tall Tale Productions, Eisenberg continues to chase his ultimate goal of seeing his name in the credits of a feature film.
"I want my work to be showcased in over a thousand theaters nationwide," he says. "I don't care if they like it or hate it, I just want to be able to connect to people and make them think about something I put time into. In the end, I want people to want to see the next Mike Eisenberg movie."