Former Board chair named 2016-17 Fitzgerald Executive-in-Residence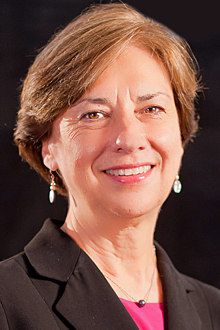 Pat Willis '70, who led a statewide organization in Georgia that provides research, communication, and advocacy for issues related to children and families, has been named the 2016-17 Fitzgerald Executive-in-Residence (EIR) at Marietta College's McDonough Center for Leadership and Business.
Willis' topic for her year as the EIR is "Beyond Altruism: The Economic, Social and Civic Impact of Nonprofit Organizations on the Mid-Ohio Valley."
"Executive leadership is critical in all sectors, including nonprofit. Our next EIR will bring to our students a great deal of executive leadership experience in the nonprofit sector," said Dr. Gama Perruci, Dean of McDonough. "I am excited about her project idea because it allows our students to gain a deeper understanding of the important role that this sector plays in the local economy. The next EIR Project also will generate meaningful data that will be shared with community leaders. This research will be used as a model for other communities, as well."
Perruci said the goal of the 2016-17 EIR Project is to increase students' understanding of the diverse contributions of the nonprofit sector in the community and their own potential for leadership in the sector regardless of their career paths. The EIR will guide students in assessing the impact of the nonprofit sector on the Mid-Ohio Valley and/or selected counties in the Marietta College service area, using national databases, local resources, and direct outreach to the community.
He added that the assessment will be used to educate local leaders and to create tools for their use in the community that will strengthen the visibility, stability and contributions of nonprofits to the vitality of the region. The EIR project participants will share their findings with a national audience during the 2017 McDonough Leadership Conference at Marietta College.
Willis, who chaired the Marietta College Board of Trustees from 2004-08 (serving a total of 12 years), has the right experience for this project. She retired in 2015 as the founding executive director of Voices for Georgia's Children. During her 12-year tenure, Voices helped to deepen the state's commitment to early childhood development, reform the Juvenile Code, and expand access to quality health services for children.
Prior to launching Voices in 2003, Willis spent 20 years at BellSouth Corp. She was the first executive director of the BellSouth Foundation, an endowed trust devoted to improving education in the southeastern United States and in Latin America. Programs of educational leadership and regional collaboration initiated by the Foundation continue to operate and have impact in 2015. 
Willis spent the first seven years of her career in the Research and Evaluation Division of Atlanta Public Schools and also served as a political campaign consultant in Atlanta in the late 1970s.