Former child refugee to deliver MLK Jr. Day keynote address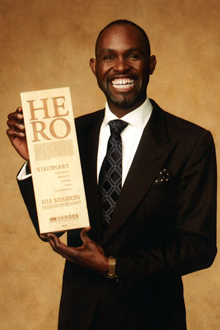 Derreck Kayongo, a former child refugee who now serves as the senior advocacy coordinator in the Southeast for the CARE International relief organization, will deliver a keynote address as part of Marietta College's recognition of Martin Luther King Jr. Day on Monday, Jan. 21.
Kayongo will address students and parents at 2:45 p.m. during an Admission Open House and then speak at the Global Palate event at 6 p.m. in the Andrews Hall Great Room.
Kayongo's family fled Uganda during the tyranny of Idi Amin in 1979, and he has gone on to become a voice for marginalized and vulnerable people around the globe. Now a naturalized U.S. citizen, he has worked with the American Friends Service Committee as program director for the Southeast Peace Education program and has been director of the Southeast region for Amnesty International. CNN named Kayongo one of its "CNN Hero" finalists in 2011.
Kayongo and his wife, Sarah, founded the Global Soap Project in 2009 to collect used bars of soap from American hotels and recycle them into new bars that are distributed at refugee camps around the world. The Global Soap Project produces 30,000 bars of soap per week with capacity to produce over a million bars annually and has been able to donate over half a million bars of soap to over 20 countries some of which include Afghanistan, Iraq, Swaziland, Kenya, Ghana, Uganda, Haiti, and Malawi.