Former H. J. Heinz Co. executive named Fitzgerald Executive-in-Residence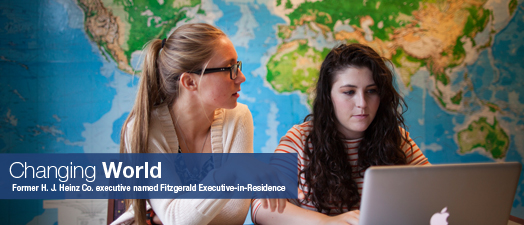 Michael Milone has seen firsthand the evolution that has occurred in the business world during his 32 years with the H. J. Heinz Co.
Most notably, he sees the importance of emerging markets and the impact it has on the world economy and how global travel is less of a luxury and expected from industries hoping to thrive today.
His outlook and experience will play a key role in how he shapes the 2014-15 Fitzgerald Executive-in-Residence program.

​"I'm very excited to serve as the next Fitzgerald Executive-in-Residence, and what I expect will be interesting and exciting interaction with students on an intriguing, thought provoking subject," Milone says.
Dr. Gama Perruci, Dean of McDonough, is excited to welcome the program's seventh Fitzgerald EIR.
"Mr. Milone has a wealth of experience in the international business world. I think our students will greatly benefit from working with an executive who worked so closely with the CEO of the H. J. Heinz Company for so many years and travelled extensively throughout his career," Perruci says. "I think his project topic is very intriguing, and the participants will have a great time exploring the possibilities. I am looking forward to seeing what they come up with."
Milone, who retired in 2012 from Heinz, will lead a two-phase project starting this fall that he believes will appeal to students of all majors at Marietta College. He anticipates working with groups of two to four students who will be asked to explore 10 unrelated situations that could affect their future.
"It could be growth of emerging markets; China becoming the world's No. 1 economic power, global energy policy, the impact of social media, or extreme poverty in parts of the world," Milone says.
The participants will then be asked to articulate what each situation may be, how it is likely to change, why it is important and why it could be meaningful in the future. In the end, the students will design and present a poster for each of the top three topics at the 2015 McDonough Leadership Conference in front of a national audience.
"This is exactly the type of project, and depth of research and work, that we expect when we run an EIR program," Perruci says. "Mr. Milone had high expectations when he was in the workplace and we know he will have those same high expectations with the EIR participants."
At the time of his retirement, Milone was responsible for Rest of World, Global Enterprise Risk Management, Environmental Health, Safety & Sustainability, Quality and Infant/Nutrition. In a press release announcing his retirement, H. J. Heinz Chairman, President and CEO William R. Johnson says, "Under his strong leadership, Rest of World and Global Infant/Nutrition have become key growth engines for Heinz. Mike has been an outstanding leader for Heinz for over three decades and was a key contributor to our recent acquisition of Quero, our first major business in Brazil."
Milone holds a Bachelor of Arts degree from Colgate University and an MBA from the University of Pennsylvania's Wharton Graduate Division.
According to Perruci, the purpose of the EIR program is to allow a senior executive from a major business an opportunity to spend a meaningful period of time on campus interacting with students and faculty.
"While the McDonough Center hosts many campus speakers throughout the academic year, the EIR is expected to go beyond a one-time campus presentation," Perruci says. "However, the residence arrangement is flexible. It can range from several visits during a semester to a longer stay on campus. The program's flexibility allows the EIR to make a commitment based on his/her time requirements."
Paul and Barbara Perry Fitzgerald '73 made an initial $100,000 donation to fund both the Fitzgerald Executive-in-Residence (EIR) as well as the Schwartz Leader-in-Residence. Barbara Perry Fitzgerald, Chair of the College's Board of Trustees, says a major reason for their support was to broaden the exposure Marietta students have to individuals with varied experiences and careers. She also gained first-hand familiarity with the program when she served as an EIR during the 2007-08 academic year.