Former professor honored with 2nd Shields Award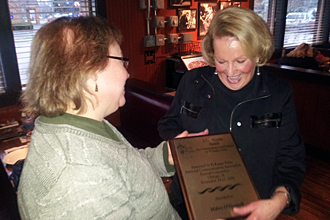 Dr. Mabry M. O'Donnell, McCoy and Hillyer Professor Emerita, became the first person ever recognized with winning two John Shields Awards for Outstanding Contributions to Pi Kappa Delta.
O'Donnell, who advised Marietta College's Forensics Program for more than 30 years, was presented with the plaque by a member of the National Council in Columbus in December.
She also received the honor in 2003, and has been named the Ohio Forensics Association Educator of the Year.
Pi Kappa Delta, founded in 1913, is a national honor society for students in speech and debate. Marietta College's chapter, established in 1926, continues the commitment to ethical, humane, and educational communication practices.