Founders Day speaker remembers mentor, friend — Dr. Richard Krause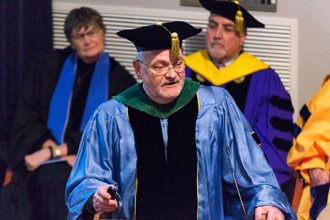 This year's Founders Day followed in tradition by honoring esteemed Marietta College faculty and staff. However, this year differed because of the focus placed on celebrating the life of one of Marietta's most revered alums.
Dr. David Morens, Senior Advisor to the Director at the National Institute of Allergy and Infectious Diseases, National Institutes of Health, delivered a powerful keynote address entitled "Richard M. Krause M.D. & The Romance of Emerging Infectious Diseases."
Morens acknowledged that he appreciated the invitation to speak about his good friend on a subject that guided both of their careers.
The talk began by explaining what emerging infectious diseases are. Through brief discussions of bubonic plague, smallpox and cholera epidemic, Morens showed that people have experienced the onslaught of terrible, devastating diseases.
Morens continued by discussing the distinguished career of Krause and his landmark contributions to the world of infectious diseases.
Krause was ushered into the world of medicine and infectious diseases after he spend fifteen months with one of his mentors, Dr. Charles H. Rammelkamp, working on the prevention of rheumatic fever by early treatment of streptococcal sore throat with penicillin.
He continued his quick rise to scientific "rock star" at a young age by working at Barnes Hospital in St. Louis and later being appointed assistant professor of the Rockefeller Institute and Associate Physician to the Rockefeller Hospital.
Krause's most prestigious appointment came when he was named director of the National Institute of Allergy and Infectious Diseases (NIAID), the top infectious disease job in the world.
Morens said, it was in this position that Krause was able to put his stamp on everyone's live, from doctors to dentists to individuals picking up an antibiotic prescription.
While many in the medical community at the time believed infectious diseases would begin to disappear for good with the use of antibiotics, Krause knew better. He wrote "The Restless Tide" to declare that infectious diseases were not going away and humans shouldn't let their guard down.
At this same time, the AIDS epidemic broke out. Unlike his contemporaries, Krause recognized that scientists needed to get out of the lab and into the real world to conduct research on HIV/AIDS. While mystery still surrounded the disease early on, Krause immediately went to Haiti and Africa to do research.
This determination to go out into the field all around the world differed from normal procedures of the time, but Krause believed it was necessarily to study emerging infectious diseases in an increasingly globalized world.
Krause's persistence and successes set in motion many changes and focused research that are continued through today. He helped lead the NIAID to adopting a more international focus and helped it see that the whole world comprises a lab.
The first Ebola outbreak occurred during his tenure at the NIAID. It was under Krause that vaccines to fight it first began being manufactured. His HIV/AIDS research is a large part of his professional legacy.
Morens said it was because of Krause's dedicated work that AIDS is now being controlled and the beginning of its end can potentially be achieved in a lifetime.
Other imminent medical breakthroughs, such as a universal influenza vaccine and possible elimination or eradication of five other infectious diseases, have been impacted by Krause's work.
While he was pleased with the honors and awards bestowed upon him, Krause enjoyed the small things, a thank you, knowing his work had been beneficial.
Morens closed with words that were first used to describe Benjamin Franklin, "A man is dead, and two worlds are in mourning."
In his introduction, President Joseph Bruno discussed how Krause exemplified the Core Values Marietta holds dear. He said Krause embodied the Liberal Arts depth and breadth of learning by being a consummate life-long learner in a variety of fields including science, history and the arts.
When it came to service, Krause's was unwavering. He served on the College's Board of Trustees for more than 20 years and continuously gave to his alma mater, perhaps most noticeably by loaning and donating art from his personal collection.
"Richard was dedicated to the things he loved, and Marietta College was high on that list. He remains one of Marietta College's greatest friends," Bruno said.