Friedman Lecture Series slated for March 3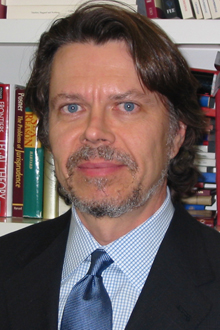 Donald J. Boudreaux, Professor of Economics at George Mason University, is delivering the 29th annual Milton Friedman Lecture Series at Marietta College on Sunday, March 3.
Boudreaux will talk about "Has America's Middle-Class Stagnated Since the 1970s?" at 7 p.m. in the Alma McDonough Auditorium.
Boudreaux is the Getchell Chair for the Study of Free Market Capitalism at the Mercatus Center at George Mason. He is the author of Hypocrites & Half-Wits (2012) and Globalization (2008).
Previously, he was president of the Foundation for Economic Education (1997-2001); associate professor of legal studies and economics at Clemson University (1992-97); and assistant professor of economics at George Mason University (1985-89). His Ph.D. in economics is from Auburn University (1986) and his law degree is from the University of Virginia (1992). His primary research interest is international trade.
Boudreaux is also committed to making economic insights more accessible to wider audiences by blogging at Café Hayek.
During his visit to the Mid-Ohio Valley, Boudreaux will also present "Can You Spot the Billionaire? Reflections on Income Inequality," at the Economic Roundtable of the Ohio Valley.
Lunch begins at noon, Monday, March 4, at the Marietta Country Club.
The Economic Roundtable of the Ohio Valley is a non-partisan non-political educational organization that formed in 1982 as a result of collaboration between the Business and Economics Department at Marietta College and a group of business, civic and educational leaders. The object of the Economic Roundtable is to promote an interest in and to enlighten its members and others in the community on important governmental, economic, and social issues. Since its inception, the Economic Roundtable of the Ohio Valley has presented the Ohio Valley with more than 160 distinguished speakers who have enlightened and informed ERT members with their fascinating discussion on a broad scope of governmental, economic and social issues.
The ERT's speaker series is open to its members only. The ERT's membership is open to all interested individuals at $35 a year. To join ERT, please contact David Mead at dave.mead@marietta.edu or call him at (740) 376-4632. You may find more information on ERT at economicroundtable.org.