FYE class visits Rock 'n' Roll HOF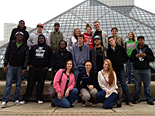 A day trip to the Rock 'n' Roll Hall of Fame was exactly the reminder that Kennedy Clyde '16 (Chagrin Falls, Ohio) needed.
"This outing to Cleveland reminded me of the reason I chose to attend this College; to receive individualized academic and extra-curricular attention through amazing, once in a lifetime opportunities," she said.
Clyde was one of 16 students from the FYE Media and Society class that traveled to Cleveland in early December as a culmination to a semester of talking about the history of Rock 'n' Roll.
"This course offered students a chance to trace the history of Rock 'n' Roll music from its rise as a blending of white and African-American music traditions amidst the youth-oriented culture of post-World War II America, to its subsequent diversification and internationalization," said Instructor Lori Smith of the Department of Media Studies. "Its history was viewed in the context of the political, historical, demographic, and cultural forces at work in the modern and post-modern world."
The Rock 'n' Roll Hall of Fame is a 150,000 square-foot museum featuring seven floors, five theaters for films, special events and ever-changing exhibits.
"Sometimes it seems as though the music changes our society," said Elaina Eakle '16 (Whipple, Ohio). "It pushes us into the future. . . . from gender roles, to gay relationships, to our own insecurities . . . music and performers channel and explore these topics."
The other students who made the trip are Kaitlyn Blaney '16 (Shawnee, Ohio), Andre Camp '16 (Cleveland, Ohio),  Jordan Carithers '16 (Middlebury, Ind.), Mary Ervin '16 (Lewis Center, Ohio), Avery Glass '16 (Mableton, Ga.), Justin Goodloe '16 (Clearwater, Fla.), Brian Holliday '16, Margaret Price '16, Austin Reddy '16, Peter Sibicky '16, AJ Thompson '16 (Jacksonville, Fla.), Andrew Tieman '16 (New Albany, Ohio), Brittany Waugaman '16 (Buckhannon, W.Va.) and peer mentor Christian Sanders '14 (Willoughby, Ohio).
Smith received financing through the College's Hartel Grant, which funded the corporate group package — admission, $10 meal voucher to the Rock Hall Café and a special discount card for The Museum Store.