Gallery 310 opens to rave reviews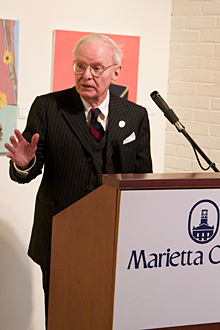 For approximately a decade, Jolene Powell has worked behind the scenes trying to add a secure gallery space at Marietta College's Hermann Fine Arts Center.
On Friday, Powell was on hand to see the official opening of Gallery 310, which is currently exhibiting Asian Art Collection, which was gifted to the College by Dr. Richard Krause '47.
Approximately 100 people attended a special ceremony to officially unveil the new exhibition space and they heard from Marietta College President Joe Bruno, Krause and Powell.
"We can't take people to the Metropolitan Museum of Art, The Louvre or The Prada," Powell said. "We have a space now that is of that quality. I mean the lighting is perfect, the walls are perfect, and we have this exquisite collection."
Those in attendance also had the opportunity to get an early glimpse of the work on display for the annual Juried Student Art Exhibition, which has an opening reception from 6-8 p.m. Friday, Feb. 22.
The artists in the Asian Art Collection include Utagawa Toyokuni I,  Ando Hiroshige, Jamini Roy and Francis Newton Souza. Powell said Krause's eye for great art allowed him to purchase these as the artists are on their way up and she believes they will become household names in the future.
"In order to have the kind of shows and particularly to show important works or to bring in works from outside the campus you really have to have a state-of-the-art secure gallery," said President Joseph Bruno.
While addressing the audience, Powell thanked former President, Dr. Jean Scott, Dr. Bruno, and Krause for making Gallery 310 a reality.
Krause was pleased to see that it was finished by the College's Founders Day.
"I didn't see any chance of it being done by Founders Day, but you obviously got it done by Founders Day," he said.
Gallery 310 hours are 1-3 p.m. on Mondays and Wednesdays and 3-5 on Tuesdays and Thursdays.