Garden of Hope yields first harvest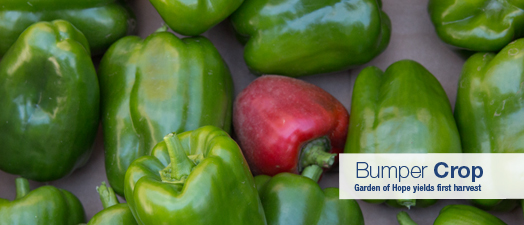 Luke Badaczewski '14 (Gibsonia, Pa.) and Clay Ellenwood '14 (Belpre, Ohio) had plenty to smile about Monday afternoon.
After months of planning, planting and waiting, it was time to harvest the first crop from the new Garden of Hope behind the Pioneer House.
"We have acorn squash, cantaloupe and (green) peppers," Badaczewski says. "It was decided to give it to people on staff who might need food."
Numerous boxes of produce were filled, with the help of Student Life's Linda See, and delivered to the Physical Plant, where the first offerings were made.
"It would be nice at some point to do a community meal in Gilman with food raised by students on campus," Badaczewski says. "Another idea is to provide produce for the local Harvest of Hope pantry."
Badaczewski and Brett Notarius '14 (East Amherst, N.Y.) planned and planted the garden earlier this year. The project is part of the transformation taking place at the former Pioneer House, which recently received eight new solar photovoltaic panels and solar thermal panels for the building's hot water heater. The Sustainable Living House offers programs that educate students on ways to incorporate "greener" methods into one's lifestyle.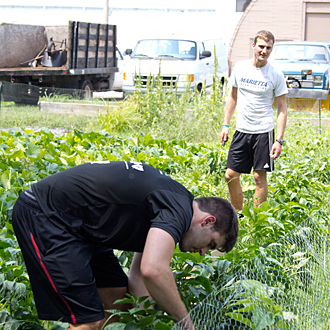 ​Both Ellenwood and Badaczewski are resident assistants and arrived on campus to prepare for incoming students. It provided a perfect opportunity to tend to the garden.
"I got involved through Luke and Brett," Ellenwood said, as he filled his box with large green peppers. "I became really interested in permaculture and organic farming."
Ellenwood, who is an RA in Fayerweather Hall, lives in Belpre, Ohio, so checking on the garden was an easy task for him.
"We've had so much rain this summer. I came by a few times and at one time it was kind of flooded back here, so there wasn't a concern about watering the garden," Ellenwood said. The house has a rainwater collection system for future watering needs.
The garden was protected from wildlife by a wire fence. Physical Plant also delivered compost to the site to keep the ground fertile. Ellenwood and Badaczewski harvested a portion of the crop with butcher's knives, which were the only tools they could find right away.
As the two filled the first few boxes Monday, they began planning for the next crop.
"We'll be planting hardy stuff, like kale," Badaczewski said, as he barely fit through the rows of acorn squash plants. "We planned for a two-foot space between rows. It's grown so well — this is great."