Historian to examine connection between religion and founding of U.S.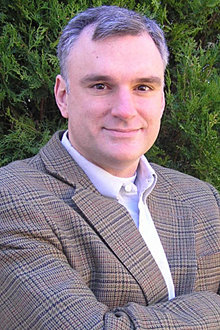 When you publicly speak about religion and America's founding fathers, it's probably a good idea to have thick skin.
Dr. John Fea, associate professor of American history and chair of the history department at Messiah College, has learned this lesson well.
"Most people come to my talks on this subject with their minds already made up. I hope that my talks have made people on both sides of the issue a bit uncomfortable," he said. "Most of my audiences have been civil and respectful, but I have done events where there has been more heat than light."
Rea will give the talk, "Was America Founded as a Christian Nation?" at 7 p.m., Tuesday, Jan. 22, at Marietta College's Alma McDonough Auditorium. The lecture is free and open to the public.
"I think that this question — 'Was America Founded as a Christian Nation?' — has become little more than a political weapon in our culture wars. Very few politicians are interested in understanding the question historically," Fea said. "Instead, they want to raid the past for quotes or stories or facts that suit their needs in the present, without looking at the history of the American founding, particularly as it relates to religion, in all its fullness and complexity. I tried to approach this issue with a historian's eye."
His book, Was America Founded as a Christian Nation: A Historical Introduction (Westminster/John Knox Press, 2011) was selected as a Choice Outstanding Academic Title, Religion Book of the Year (Gold Medalist) by the Association of Independent Publishers, and was one of three finalists for the prestigious George Washington Book Prize, one of the largest literary prizes in the United States.
"All historians enter projects with preconceived ideas about what they hope to find. I did the same thing. I originally thought the evidence would be overwhelmingly on the side of the belief that America was NOT founded as a Christian nation," Rea said. "While I still think that much of the evidence I found supports this view, I was also surprised at how much Christianity mattered to the founders and their vision for the republic they were trying to create."
Fea is the author or editor of two other books: Confessing History: Explorations in Christian Faith and the Historian's Vocation (University of Notre Dame Press, 2010) and The Way of Improvement Leads Home: Philip Vickers Fithian and the Rural Enlightenment in Early America (University of Pennsylvania Press, 2009). His book The Power to Transform: Reflections on the Study of the Past, will appear in 2013 with Baker Academic.
His essays and reviews have appeared in a variety of scholarly and popular venues. He blogs daily at The Way of Improvement Leads Home, presenting reflections at the intersection of American history, Christianity, politics, and academic life.