Annual Honor High School Recital chance for area musicians to shine
Nine area high school students were recently recognized for their musical talents during the sixth annual Honor High School Solo Recital at Marietta College.
Shenandoah High School's Corey Feldner (tuba) earned first place in the instrumental division, Marietta High School's Luanna Wriston (soprano) won first place in the vocal division, and fellow MHS student Matthew Mason (piano) — a student of Karen Young Piano Studio — won the keyboard division.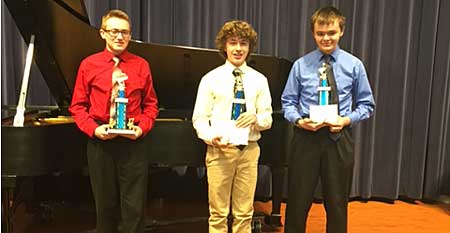 "The talent displayed in the event was very high with students representing numerous high schools and private teaching studios," said Marshall C. Kimball, Music Department Chairman. "It's a great opportunity to showcase the students' work, the opportunities we have for music and music students at Marietta College and the importance of the arts for the well rounded student."
Also placing in the instrumental division were Maysville High School's Matthew Pitcock (alto saxophone) in second and Parkersburg High School's Chris Smith (snare drum) in third.
In the vocal division, Marietta High School's Hannah Miller (soprano) finished second and Meadowbrook High School's Anna Marie Smith (soprano) was third.
In the keyboard division, Marietta High School's Jodan Weber (marimba) of Scott Kitchen private studio, came in second place, while Maggie Smendziuk (piano), who is home schooled and is with Karen Young Piano Studio, finished third.
"Students have come to anticipate the opportunity to return with their solo work to compete for both cash prizes and a possibility of scholarships," Kimball said. " With the current educational climate it is important to always keep the arts and the liberal arts front and center. This is one of our ways of doing just that. It's also a great learning experience for our Music Education students as they help organize and run the event. During the day little things pop up and the students have to think on their feet and do critical thinking and problem solving on a moment's notice. This is very much like real life in the teaching profession. I am pleased we can continue this opportunity for everyone involved."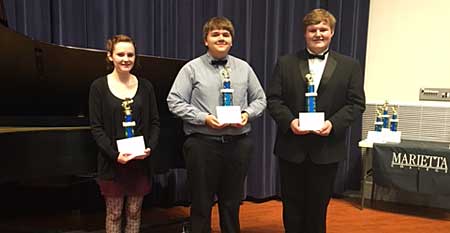 The Edward E. MacTaggart Department of Music and the Marietta College chapter of National Association for Music Education Collegiate conducted the recital on Feb. 25. Performing to a large crowd in the Alma McDonough Auditorium, 28 high school musicians, who received superior ratings at the District IX High School Solo and Ensemble Contest on Jan. 21, presented their solo work for a panel of six judges.
The judges for the event were Dr. Jay Dougherty, Director of Choirs; Dr. Andrew Francis, Professor of Theory/Composition; Professor Marshall C. Kimball, Chairman of the Music Department; Merewyn Weinkauf, Collaborative Pianist; Di Krivchenia, vocal instructor from West Virginia University-Parkersburg and Christopher Bowmaster, Applied Clarinet professor.
The high school musicians were competing for cash prizes and a possibility of music scholarships. Prizes for each division were: first place-$150 and trophy; second place-$100 and trophy and third place-$50 and trophy.