Improvements to undergraduate research make big impact in Chemistry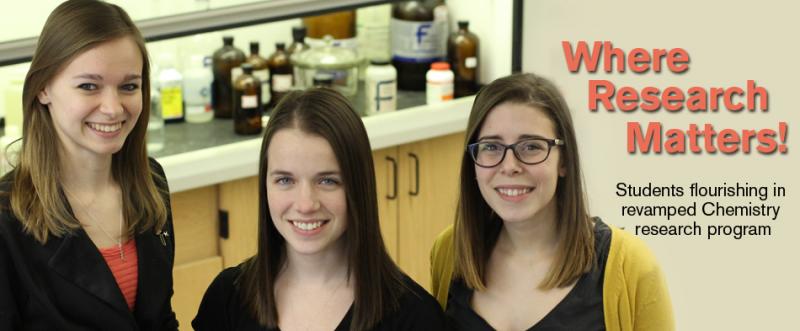 Kaely Becker '15 (Brunswick, Ohio) is tenacious. Her professors call her stubborn.
No matter what adjective you want to use, her determination is a big reason why she will graduate this May as a published scholar.
"Thinking back on all the work I've done I feel very accomplished," said Becker, who will earn a Bachelor of Science degree in Chemistry. "Not many students, especially at a small college, can say they had the opportunity to work in two different laboratories during their undergraduate career.  I realize just how lucky I've been here at Marietta and I'm so thankful to our Chemistry Department and professors for being open to such a hands-on experience."
Becker will present her work on "Synthesis, Characterization and Phototoxicity Studies of Paraben Derivatives," at the 249th American Chemical Society National Meeting in Denver from March 22-26. Rebekah Wood '15 (Pleasant City, Ohio) and Becca Greenstein '15 (Zelienople, Pa.) — both Biochemistry majors — will also make presentations in Denver.
Wood is presenting "Lipid Raft TNF-a Pathway Analysis of Cytochrome C," while Greenstein is presenting a poster on "Extraction and Functional Assay of Cloned Thymopentin."
"We are performing innovative, presentable and publishable research at the undergraduate level," said Dr. Suzanne Parsons, Assistant Professor of Chemistry. "It is amazing what is happening in the Chemistry Department right now. I believe that we will have students presenting nationally and publishing in peer-reviewed publications in reputable journals in the Chemistry and Biochemistry Department every year."
In 2011, Chemistry faculty made a decision to revamp the capstone project and provide greater research opportunities for their students.
"We wanted to make research publication and public presentations by our students a reality, a feat that proved almost impossible under our old seniors-only research approach," said Dr. Kevin Pate, McCoy Associate Professor of Chemistry. "Thus, we revamped our capstone course to focus on critical thinking while simultaneously opening up research opportunities to students from freshmen through seniors."
Initially, the department's goal was to make research an option for any Chemistry or Biochemistry majors. However, in the three years that the new approach is also being utilized by Biology and Petroleum Engineering majors.
The overwhelming interest has energized the Chemistry faculty and all five — Drs. Debbie Egolf, Jim Jeitler, Bonnie Martinez, Parsons and Pate — are conducting research with undergraduates. Those five are currently advising 28 students, including 11 freshmen, eight sophomores, six juniors and three seniors. 
"Our research program has grown faster and has already been more successful than we ever anticipated, and it is quickly becoming something that Chemistry and Biochemistry majors should expect to be a big part of their undergraduate education," Pate said.
It has been an impactful part of the three seniors who are heading to Denver.
"My sophomore year, I would spend countless hours in the lab and leave with an empty flask feeling frustrated and exhausted, wondering what went wrong. For nearly six months I thought I was wasting my time, but I'm also persistent, and do not back down from a challenge," said Becker, who will join Sherwin Williams after graduation as a chemist in the raw material lab testing different paint formulas. "I'm proud that I've been invited to a national conference to present my work and I'm proud that my successes have prompted other colleagues to start researching. I've gained determination, patience and great problem-solving skills from my research, and I will forever be published on the American Chemical Society website for my poster. It's work I can look up 20 years from now and show my kids and that is pretty darn cool."
Greenstein said she started doing simple research projects with Parsons and worked her way up to more complex issues. She added that working in a lab is a great way to develop critical thinking skills.
"In a laboratory course, the professor outlines an experimental procedure for you, and all you have to do is follow it. Additionally, if something goes wrong, the professor is usually there to correct your mistake or tell you why some results appeared the way they did," said Greenstein, who will attend the University of Cincinnati College of Medicine in the fall. "In the lab, although you have a mentor or advisor that you can talk to about flaws in your results, a lot of the troubleshooting is left up to you. I have spent many long nights reading articles and thinking about my protocol, trying to realize what I need to change in order to get quality results. While I often got frustrated when my experiments did not work, there is no better feeling than getting the long sought after results you have been looking for and knowing that you were able to achieve them yourself."
The students said the undergraduate research experience was enhanced by the close working relationship with their mentors.
"I am very proud of my accomplishments and the feeling of having all of that hard work pay off is one of the best feelings, but I'm also very thankful for all of the work that Dr. Parsons put into helping me with my research," said Wood, who will attend Wright State University's Boonshoft School of Medicine in the fall. "I have gained a great relationship with her and could not have accomplished this much without her."
The students will also present their research at the annual All Scholars Day on April 15.
"I think that what the Chemistry Department has done with their research program is something that every program should look at and try to create a similar program because it provides an opportunity outside of class to learn by doing," Greenstein said.
Greenstein credits her hours of research as a key factor in obtaining an internship at Magee-Women's Research Institute through the University of Pittsburgh during the summer of 2014.
"This experience allowed me to work under a different advisor on a whole new project, which enhanced my perspective and my skill set," she said. "Overall, I feel that through my research I have gained numerous opportunities, a variety of lab skills, enhanced critical thinking skills, an amazing adviser and an enormous amount of respect for the individuals who do scientific research every day."
Parsons and Pate agree the approach to undergraduate research in Chemistry and Biochemistry is one of the most impactful changes made to the department in decades.
"We can now promise our majors that they can begin a research project in their second semester, and the sky is the limit in terms of what they do with it," Pate said. "They can and, we hope, WILL remain active in it until they graduate. Those that do should accomplish some great things, and our goal is, at minimum, for all of our active research students to go to a national meeting and present their work at least once in their undergraduate careers. These three students are not the first Marietta students in Chemistry to do that, but they are the first under our new program, and there are going to be MANY to follow."