Institute for Learning in Retirement makes $10,000 donation to College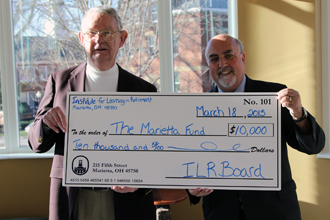 Marietta College's Institute for Learning in Retirement may be as popular as ever.
When a new round of eight-week courses began on Monday, the program had as many as 250 students registered for at least one of the six classes. In its 23rd year of providing enriching courses to people of retirement age in the region, members of the ILR are thankful for what Marietta College offers.
On Wednesday, March 18, the Institute's leadership — Director Jim Hoy and Program Chair Dave Cress — presented Marietta College President Joseph W. Bruno with a $10,000 check. Cress is an Emeritus Associate Professor of Petroleum Engineering.
"When we accumulate excess cash in our account, we donate it to the College, either directly or indirectly. We are in partnership with the College and certainly could not function without it," Hoy said. "It is nice to be able to return some of the vital support they give us. We sometimes return money to the College directly, as a gift and sometimes indirectly, as equipment."
President Bruno expressed his thanks to the group for making the gift to The Marietta Fund, which has a $1.85 million goal this academic year.
"First and foremost, I want to share my appreciation with everyone who is involved with the Learning in Retirement program," he said. "By making this generous donation to the College, the group has displayed an enormous amount of respect and support for what we are doing at Marietta. I have been fortunate to get to meet many of the 'students' and it is rewarding to see how many of them are taking classes each session."
Cress said the group usually makes a donation every year, including contributions to upgrade Thomas 124, Legacy Library and Anderson Hancock Planetarium — all locations the group conducts many of its classes.
"We are giving a larger gift than usual now because the program has grown so much in the last few years," Cress said. "We're grateful to the College for our rooms and the part-time services of two secretaries."
Some of the spring courses are at capacity or near capacity. Three Seasons in the Valley, which is taught by a variety of instructors, is at capacity with 30 students enrolled. It doesn't begin until April 25 and will run throughout the summer months and wrap up in the fall on Oct. 10.
Dr. Janice Terry's Revolution: Egypt '52! Algeria '54! Iran '79! Egypt 2011? is expected to be a popular choice for many of the retirees. Other courses include Dr. Bill McNeely's Brain IV and Dr. Jeanne Tasse's The Human Figure in Art Through the Ages. All three of these courses have a capacity of 90 students.
Dr. Steve Spilatro, McCoy Professor of Biology, began teaching in the program last year and he said he has enjoyed the experience. He is teaching How cells 'tick' and make us sick this spring.
"As an instructor, the ILR provides the opportunity to share subject matter that I enjoy with a wider audience than traditional college age biology majors, and to show how relevant these topics are to peoples' lives," he said. "The participants are always willing to share their life experiences and knowledge during classes, and this also helps to build connections."
Another interesting addition this session is the Incredible Changes in China series, which is being taught by UIR visiting professor Kunqiang Qian. It is limited to 40 participants and begins on Friday, March 20.
Brandee Norris, Director of The Marietta Fund, is thankful the ILR group wanted to make the donation.
"It is nice of them to acknowledge the important role The Marietta Fund plays in the success of our students," she said. "We appreciate the strong relationship we have with the Marietta community as a whole, and gifts of any size are important to the overall success of the College."
Every ILR class is $30 per person. For more information about the program contact Angie Stevens at abs001@marietta.edu.