International Art Expo gold winner visits campus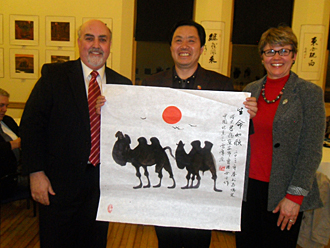 At the invitation of Marietta College, renowned contemporary Chinese painter and calligrapher Mao Xuefeng and his wife Wang Chunling visited Marietta College, March 30-April 2.
During the visit, Mr. Mao held a two-day "Mao Xuefeng U.S. Tour on Chinese Painting and Chinese Calligraphy" exhibition and gave a lecture on Chinese culture and art, and a live demonstration of Chinese calligraphy and painting. The events were co-sponsored by the Asian Studies Program and the Office of Diversity and Inclusion to highlight the conclusion of the college's 19th annual international week.
Mao is the founder of Xinjiang (Northwest of China) heavy-color style of landscape painting. His works have been displayed in national and international art exhibitions and have won numerous domestic and international prizes, including the "Art Award of International Peace Year" issued by the United Nations; the "Gold Award Asia Tour on Chinese Painting Exhibition;" the "Salon Award of Contemporary International Water Color Painting Exhibition;" and the 2013 New York International Art Expo Gold Prize.
Mao has been named as distinguished professor and research fellow by a number of universities and art institutions in China and Japan. Now more than 80 pieces of his artwork are collected and displayed in individual homes, museums, galleries, colleges, and art institutions in China, Japan, the United States, Australia, Hong Kong, and Taiwan.
The two-day art exhibition displayed more than 30 pieces of Mao's most recent creations: mini-paintings of Xinjiang landscape and the artwork selected from the pieces displayed at the 2013 New York International Art Expo. At his speech "The Blend of Traditional Chinese Landscape Painting and the Colors of Western Art" at Marietta College on April 1, Mao highlighted the aesthetic values of the interplay of traditional Chinese landscape painting and the "bold" colors of western painting in his heavy-color style painting, and emphasized that art transcends the borders of nations and cultures.
President Joseph Bruno and his wife, Diane, attended Mao's speech and live demonstration. Dr. Bruno praised the beauty and profound meanings in Mao's artwork. At the welcome speech, Dr. Richard Danford, Vice President of Diversity and Inclusion, said, "We are fortunate to have Mr. Mao visit Marietta College and bring to the Marietta community a unique cultural experience."
President Bruno and Dr. Mark Miller, Associate Provost, both expressed appreciations for Mao's contributions in promoting cultural exchange between China and the United States.
The Mao Xuefeng Exhibition and Mao's live demonstration drew students, faculty members, and community members. Alex Nourse '15 (Cincinnati, Ohio), a double major in Asian Studies and International Business, said, "Mao Xuefeng's art gallery was absolutely breathtaking! Xuefeng drew with such precision and attention to detail, that it made the paintings come to life right before my very eyes."
Another student, Alex Martin '14 (Aurora, Colo.) said, "As an International Leadership major, with an Asia focus, this program was extremely beneficial to me. … This event was one I am glad I had the privilege of attending."
Dr. Luding Tong, Director of the Asian Studies Program, and the primary organizer of the events, said: "Mr. Mao's visit is another effort by the College to implement its strategic planning of internationalization on campus with a focus on China. We were honored to be the first public viewers of Mao's most recent creations. Mao's artwork, speech, and live demonstration gave the students, particularly the students from Asian Studies and Art classes, an invaluable opportunity to understand and experience Chinese calligraphy and painting first hand."
The Maos were impressed by the friendliness shown by the people they met in the U.S. He said, "Although this is our first trip to the United States, I feel Marietta is my home."
He also expressed interest in further exploring faculty and student exchange opportunities with Marietta College. In the spirit of cultural exchanges between China and the United States and as a token of his appreciation for the education of his daughter Yangyang Mao '15 (Beijing, China) in Communications and Spanish, Mao gave the college two pieces of his Chinese calligraphy as a gift. They are titled: "Tranquility and Transcendence" and "Lu Mountain Fall."