Jeff Theobald — Recycling Coordinator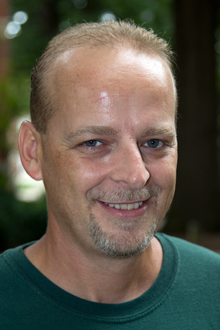 Jeff Theobald looks at recycling from an artist's point of view.
A graphic artist by training, Jeff has embraced his role as Marietta College's Recycling Coordinator — a part-time position he started in the fall of 2012.
"Recycling is really simple and I do have a passion for it. … I recycle about 99 percent of everything at home," Jeff says. "Why would we want to recycle everything we can? It's a gain for everybody."
Jeff, 48, 1984 graduate of Marietta High School, returned to his hometown of Marietta and was looking for something to do. He wasn't finding many opportunities in his chosen field and he learned about the opening at Marietta.
He figured it was a good idea to marry his passion with a job.
"I still have other interests that keep me busy when I'm not working, but I really enjoy coming up with new ideas for the recycling program," he says.
After taking over the recycling position, Jeff and Director of Physical Plant Fred Smith agreed it was the right time to change from a single-stream approach to a multi-stream approach.
"The way we were sorting our products wasn't correct," says Jeff, who graduated from the Art Institute of Pittsburgh in 1989. "For example, 50 percent of the paper we use is high-grade paper and we weren't separating it out correctly to get the higher price. Also, separating the bottles and cans will allow us to get the top dollar."
Jeff appreciates the student cooperation he receives on campus for the program, and he hopes they will adjust to the new recycling system he is putting into place this fall.
"Communication is the key," he says. "The simplicity in the process and the underlying importance is what will drive the program. No one gets an immediate gain out of it, but the overall trickle down effect accumulates and becomes a big deal."
He is adding a shed to the freshman complex that can be serviced on a daily basis to cut down on the amount of trash that gets mixed in with the recyclables, and he hopes to have a student who will handle the recycling at Harrison Hall, McCoy Hall, A&H, Pioneer House and Hopewell House.
"There are two guys who are real champions of the program and they are Luke Badaczewski '14 and Brett Notarius '14," Jeff says. "They are confident we can communicate the program to the students and make it successful."