John Sandt wore a number of hats at Marietta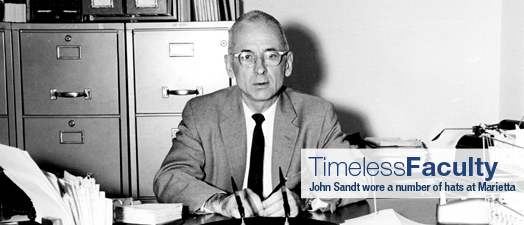 In a 1928 letter to William Allen, president of Lafayette College, Marietta College President Edward Parsons asked about the teaching ability of a young alumnus of that Pennsylvania liberal arts college who was interested a one-year teaching position in the Mathematics Department.
"(He) is a little man with a good head on his shoulders," Allen replied. "He is a competent mathematician and is prepared in mechanical drawing. He knows of the mathematics of surveying and could get experience in fieldwork in our summer school for engineers. He is a man of excellent character and unusual industry and dependability."
And with that, the young John Sandt was hired as an instructor of mathematics at Marietta College for the 1928-29 academic year.
Sandt was born Jan. 16, 1903 to parents Charles O. and Laura Gano Sandt in Easton, Pa., where he also attended Lafayette College. By 1928, after earning both a bachelor's and master's degree in mathematics from his hometown college, he began to seek work as an instructor and learned of an open position, though temporary, at Marietta College.
After having a successful year as a math instructor, his stint on the Marietta faculty was extended when he was asked to teach in the Education Department — a position he held until 1931, when he was asked to return to the Mathematics Department to teach math and astronomy. By 1937, he was promoted to Assistant Professor.
Sandt's presence on campus was consistent, with the exception of a few years when the country was in the grips of World War II.
"With the U.S. at war, he joined the U.S. Engineers Corp in the fall of 1942," said then-Academic Dean Dr. James Murtha '60 in 1978 during a special ceremony honoring Sandt.. "Five months later he found himself back here in response to President (Draper Talman) Schoonover's plea (and the Army's OK, naturally) to teach math to the 25th College Training Detachment (Air Crew) sent here for further training … If you think John's wartime career wasn't at all typical, you are right. It became even less so when he joined the American Red Cross, became a field director, and served in Hawaii and the Marshall Islands."
By 1946, Sandt was back on campus full time, with a renewed commitment to help ensure the educational opportunities, social interests and overall welfare of the men at the College.
Emeritus Professor of Physics Dr. Les Anderson '56 said Sandt's contributions to the College didn't end in the classroom. He was named Director of Fayerweather Hall, then a men's dormitory, in 1938. In addition to teaching, he held that post until he was named the Director of Men's Dorms in 1946 and the first Dean of Men until his early retirement in 1964.
"Back then, Ruth (Wilcox, Dean of Women) and John, who were both single, brought students who were not sick enough to be hospitalized but too sick to take care of themselves into their homes and acted as their caregivers until they were well enough to return to their dorm rooms," Anderson said.
Also a talented organist, Sandt was the campus bellmaster after the College installed an electric carillon in Erwin Hall in 1961.
"How does a newcomer like myself undertake to express the gratitude of the College for your yeoman service," asked President Frank Duddy, Jr., during Sandt's retirement celebration at the College in 1964. "How can anyone adequately assess your impact on and devotion to the College in so many capacities? How can anyone express adequate thanks for all that you have done for Marietta College? … I will say simply if inadequately that all of us have valued your work most highly as it has turned upon your abiding concern for the welfare of the students. I don't know that you are weary after so many years of early and late coming and going in their behalf. We all wish for you the peace you so richly deserve."
Despite taking an early retirement at the age of 61 — after having taught and served as Dean of Men for 36 years — Sandt wasn't ready to completely leave Marietta College behind for his Golden Years. He continued to teach mathematics at Marietta until 1971.
In 1978, the Alumni Council, which is the equivalent to today's Alumni Association, bestowed upon him the title of Honorary Alumnus — at the time a very rare designation for the College.
"Not counting honorary degrees that we confer from time to time, a kind of a cousin of the Honorary Alumnus Award, very few have been recognized in quite this way by the College," said Dean Murtha during a special ceremony on Oct. 28, 1978. "One veteran administrator tells me he knows of only one or two prior instances, but admitted that he had not been here for the entire 143 years of the College's life. Our 1978 recipient hasn't been here forever, either, first showing up a half century ago. We have a case of a person who only came to dinner, so to speak, but stayed on, a part of the family for, oh, about 43 years or so."
The "temporary" math instructor, fill-in education and astronomy professor, bellmaster and dean of men remained committed to the College even beyond his death at age 86 on July 7, 1989.
College historian and author of In the Various Branches of Useful Knowledge, Vernon "Dan" McGrew, recalled how Sandt's positive impact on student lives continued well beyond his time on Earth.
"John E. Sandt, the diminutive, all-purpose teacher and administrator during 1928-64, had informed the College that he would leave it his modest home and a small insurance policy," McGrew wrote. "In fact, he left $167,707, most of his estate, for endowed scholarships."