Junior Advertising & PR students receive scholarship for conference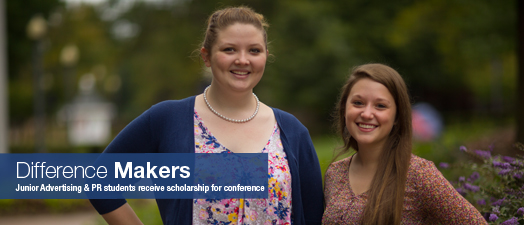 Thanks to popular TV show Mad Men, the image of creative directors at advertising agencies always seem to fit the Don Draper mold.
This image, and the reality that very few women hold these lofty positions, did not deter Marietta College's Natalie Mayan '15 (Camden, Del.) and Charlee Ottersberg '15 (Arvada, Colo.) from making their pitch for success in this field.
The Advertising & Public Relations majors were recently selected to attend The 3% Conference and present a poster in San Francisco. Both Mayan and Ottersberg will attend the conference from Oct. 16-17 on a scholarship they earned that covers the registration fee ($899).
Mayan and Ottersberg teamed up to enter the contest and created a promotional poster to inform the world about the need for more female advertisers. Their poster advertised that this conference is "Not just the event of the year, but a movement of the decade."
"Members of our department are extremely pleased that Natalie and Charlee took the initiative to enter and win scholarships to The 3% Conference," says Lori Smith, Advertising instructor. "As a talented communications team of writer and designer, they produced a promotional poster that shows the need for more female creative leaders in advertising. Of course I love their play on words, changing the Mad Men character Don Draper into Donna Draper."
Mayan and Ottersberg will get to hear from some of the leading experts in the field, including conference founder Kat Gordon. The 3% Conference, which is in its second year and gets its name from the statistic that only 3 percent of creative directors are women, is billed as an "annual gathering of the country's most forward-thinking agency owners, creative directors, creatives, recruiters, clients and trend-watchers who come together to problem-solve through a mixture of professional development, networking, and idea sharing to help change the industry."
The first conference was held on Sept. 27, 2012, and has since grown into a two-day, 400-person event.
"I am not only thrilled to attend the conference from an advertising point of view, but I am also looking forward to exploring female leadership," Mayan says. "The 3% Conference recently tweeted that you're over 11 times more likely to be a female umpire than a top female creative director."
The advertising duo will share and present at the spring All Scholars Day what they learned at the conference about changing that ratio.

"This conference is a great opportunity not only to network with women in the advertising industry, but also to learn more about the important role of women in advertising," Ottersberg says. "I am most looking forward to the session called, 'What's a Women's Account Anyway?' As a leadership and advertising student, I am interested in the stigmas associated with certain products and how this is potentially limiting. I'm also excited to get back to San Francisco, having spent my summer in the city working for an online travel magazine."
It will be Mayan's first visit to San Francisco. "Honestly, I'm also really excited to visit San Francisco. My brother lives there, and I have never been west of Ohio!"