Keller '99 uses sign language to connect students with schoolwork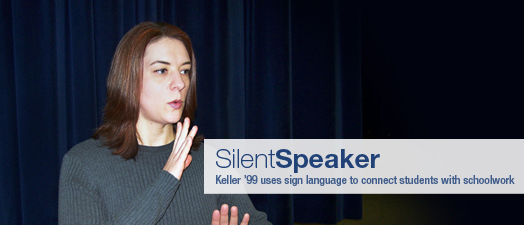 In Caryn Clevenger Keller's field, words take on a much greater meaning than the two-dimensional black and white marks on a page — they work together to form visual concepts and messages. They have three dimensions.
Keller '99 is nationally certified by the Registry of Interpreters for the Deaf as an American Sign Language interpreter for students K-12. Currently, she works as an interpreter for the Wood County School System in West Virginia. 
"In the learning environment, I stand in the students' line of sight so they can see the visual aid, the facial expressions of the teacher or speaker, and me at the same time," Keller says. "In American Sign Language, I convey as much of the auditory environment as I can to give my students the same experience as the rest of the class. I convey everything that's spoken within hearing range of the other students, and I become my students' voices by speaking what is signed."
Keller also has to identify the locations of different sounds and voices and inform her students of background noise and distractions that would generate environmental responses. As an interpreter, Keller works with a different student in each class period in order to encourage students' language development by working with a variety of interpreters. This way, the students learn more vocabulary.
Eric Murphy, a middle school teacher for Wood County Schools, has worked with Keller for 10 years. He notes Keller's commitment to her work and to continually seeking development to become a better interpreter.
"Learning a language and actually interpreting it into another language takes a lot of study and time," Murphy says. "It also takes dedication and a great understanding of how linguistics works. Caryn has this understanding and continues to work to develop her skills professionally. This leads to greater involvement in our students' academic careers and in their overall academic and social development."
Keller's best moments on the job come when a student is finally able to grasp a concept, or when a student gains the courage to participate in class.
"As I'm creating the picture for them with my hands, I can see my students' facial expressions go from complete aggravation to elation," Keller says. "I also love when, after months of quietly sitting and paying attention, a deaf student finally has the confidence to give an answer in class, or to volunteer to be first to present a project in front of the class."
She credits the liberal arts education she received at Marietta College for preparing her for work as an interpreter. At Marietta, Keller had the freedom to pursue a passion for visual art and an interest in linguistics, leading her to graduate with a Bachelor of Arts in Graphic Design and a minor in French language.
"In general, my liberal arts education has been the key to my success in my field," Keller says. "An interpreter cannot effectively interpret information that he or she doesn't fully understand, so I'm thankful to have had the large variety of courses at (Marietta College). On a daily basis, I'm relying on that knowledge, in all of those different subject areas, to create concepts three dimensionally and make them clear for my students to understand."
Keller's interest in American Sign Language began in 2002 when she accepted a position as a graphic designer and literature-warehousing supervisor for a company that provides jobs for people with disabilities. The company had two clients who were deaf, and only one person could communicate with them. It was then that Keller decided to enroll in American Sign Language courses through the Wood County Society.
"I have always been fascinated with visual arts and linguistics, so putting those together and working with visual language, in hindsight, makes perfect sense," Keller says.
After having taken the class four times, Keller became increasingly involved in the Deaf Community. Eventually, a friend alerted her of an open position for an interpreter in the Wood County School System, and she applied and got the job. Since then, she has received numerous certifications and hopes to one day attend law school and become a legal interpreter.
For now, she will continue to help students grasp complicated concepts by creating pictures with her hands.
"English is a lexicon-based language, focusing on individual words," Keller says. "American Sign Language is concept based, focusing on the idea of the message as a whole. Because of this, a complete message requiring hundreds of English words can be delivered using only a few signs, facial expressions and body shifts."