Krista Huffman '08 enjoying life in big-time athletics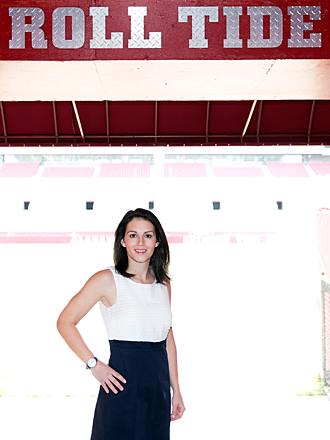 These days, it's rare to see Krista Huffman '08 wearing anything Navy Blue & White. As the Assistant Director of Marketing and Promotions for Athletics at the University of Alabama, Huffman's wardrobe is dominated by Crimson & White.
With multiple sports competing for national championships and SEC titles, Huffman said, "it's a special time to work at Alabama."
"Before I got here, I had never worked with a national championship-caliber team," said Huffman, who joined Alabama in August of 2012. "When I stepped into this role, my first task was to produce the Softball National Championship celebration. We had everything from special guest speakers, footage from the Women's College World Series and a post-event confetti blast — it was a lot of fun to produce," Huffman said. "It was a great experience, and being able to work with this softball program for the past year and a half has been outstanding."
She provides marketing oversight for volleyball, gymnastics, softball and Alabama's Big Al's Kids Club program. She also delves into the licensing part of the marketing department, which has been a real eye-opener for Huffman.
"Licensing at Alabama is a very important aspect of the athletic department and our marketing efforts. Our Athletic Director, Bill Battle, founded The Collegiate Licensing Company (CLC) in 1981," she said. "When he came to Alabama in early March of 2013, we put more emphasis on our licensing efforts and hired a new Director of Licensing that works out of the marketing department."
With a dedicated and energetic fan base like Alabama's, it's easy to see how licensing is a multimillion-dollar venture for athletics.
"Everything in general is so much larger at Alabama compared to other institutions I have worked for. Our fan base is one of the largest in the country, so it is our job to ensure those fans are having a great experience when they are at our athletic events," Huffman said. "Our softball program has the largest attendance in the country (more than 3,000 per game), football has more than 101,000 in attendance in the stadium and an extra 60,000 who are out on the quad watching the game as they tailgate. The women's gymnastics program is unlike any other in the nation. We average around 12,000 per home meet, in which we sell out at least two meets per year (15,075) and include everything from smoke and spotlights to fireworks and glitter. I say all of that to show that Alabama needs an athletic department of more than 100 individuals to help pull off events of that magnitude. Everyone is essential and everyone does such a fantastic job."
Huffman's interest in this type of work started when she was in high school and later she interned with the Akron Aeros, a Class AA minor league baseball team, during her junior year at Marietta College. She also did an internship with former Sports Information Director Dan May '03 as an undergraduate.
"Dan was an outstanding mentor who taught me a lot about sports information and how to get my foot in the door after college," said Huffman, who earned a Bachelor of Arts in Advertising & Public Relations. "He taught me how to lay out certain sports publications, write for sports information and how to conduct myself as a worker during athletic events. He had an outstanding work ethic and showed me what it took to become an athletic administrator one day."
May, who is now the Athletics Director at Midview Local Schools in Grafton, Ohio, is proud of what Huffman has accomplished.
"It is great to see how Krista's career has progressed since interning in my office as a senior in 2008," May said. "Soon after graduation, she found her passion in the marketing and sports promotion realm of intercollegiate athletics. I've followed her career with the College of Staten Island, Arizona State and now Alabama and am extremely pleased with what she has been able to accomplish. I'm proud to have helped set her on her career path and that she is a great representative of The Long Blue Line."
Huffman also played softball at Marietta, which she said remains one of her best experiences.
Coach Jeanne Arbuckle said she knew early on that Huffman would be successful in whatever career path she chose.
"Krista's determination and work ethic were second to none and she took advantage of every opportunity that came her way both on the softball field and with her education," Arbuckle said. "From her first job at the College of Staten Island to the current position with the University of Alabama, Krista has had some incredible experiences. We are so proud of her and all she has accomplished since leaving Marietta."
After leaving Marietta, Huffman worked for the College of Staten Island Athletic Department as the marketing and operations coordinator for two years. Then she took a graduate assistantship as a marketing coordinator with Arizona State University, where she earned a master's degree in Higher and Postsecondary Education Administration.
She now realizes more than ever that her time at Marietta played a critical role in her professional development.
"The professors I had in the Mass Media Department were all very helpful and brought real-life business experience to the curriculum, which is becoming more important as the job market changes for students just graduating from college," Huffman said. "Also, for one of our class projects, we were charged with developing the Marietta College baseball and softball community day. I learned so much about event planning from this single project that I used that knowledge when I worked on events early on in my career."