Kuwaiti students join humanitarian campaign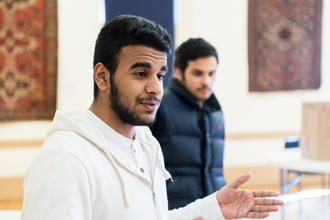 Omar Almjmrad began his day Friday with calls from his father, mother, brothers and even his grandmother from his home in Kuwait — all of them expressing their pride in what he and his friends were doing for the Marietta area.
On Friday, as part of a humanitarian campaign organized by the National Union of Kuwaiti Students (NUKS) at Marietta College, Almjmrad and his fellow members collected new and gently used clothing that would be given to local homeless and poor families to help them stay warm.
"The United Nations recently honored Kuwait as the Humanitarian Center of the world, and the Emir of Kuwait, Sabah Al-Ahmad Al-Jaber Al-Sabah, as the humanitarian leader," he said. "We want to reflect a good image of ourselves and show that we care."
About 100 Kuwaiti and Saudi Arabian students at Marietta are a part of NUKS. The Marietta organization is among 40 NUKS groups in 40 cities and states in the U.S. providing humanitarian efforts to help alleviate poverty in this country.
"I have seen many people homeless," he said. "It is not something we see in Kuwait. We have a lot of charities that provide shelter, food and clothing. We want to care for the homeless and the poor people here. It is cold; even if you are indoors it can be cold — imagine living outside when it is zero degrees Celsius. That is why we made the donation idea to be for clothing."
Almjmrad and his friend Mudhhi Al Mudhhi '19 set up the donation site in the Great Room of Andrews Hall at 2 p.m. The donations were kept in separate boxes designated for children's, women's and men's clothing. There were also boxes for blankets and shoes. Within 90 minutes, they had to get additional boxes to hold the growing number of donations.
Christy Burke, Director of Education Abroad, sent a bag of fall and winter clothing to show her support.
"I try to support student activities on campus," she said. "I am excited to support a group of students who come from a different culture focused on the lack of services in this area and trying to give back."
Maribeth Saleem-Tanner, Director of the Office of Civic Engagement, was impressed with the level of planning that Almjmad and his fellow NUKS members put into the service project.
"He literally came up to the third floor of McDonough (Center for Leadership and Business) and said that NUKS is looking for a local organization that needs clothing donations," she said. "It was a dream project because it was so organized and they were so motivated to help."
Saleem-Tanner said her office will transport the clothing to one of the homeless shelters in Parkersburg.
Initially, Almjmrad reached out to the student body to contribute to the project. Saleem-Tanner also sent the message out to faculty and staff to ask for donations.
Hilles Hughes, Director of the Career Center, stopped by Andrews with a large bag of men's and women's clothing.
"This is wonderful," she said. "I told my husband and he said it was a great thing they're doing."
Yousef Saeed '17 is a member of NUKS and spent the second half of the three-hour clothing drive in Andrews Hall helping with donations. He is also involved in NUKS charities in Kuwait.
"I have helped with sporting events for people with disabilities in Kuwait," Saeed said.
He recalled visiting Yemen one summer and seeing a number of poor people in need.
"I brought a lot of kid's, women's and men's clothes," Saeed said. "I have the ability to buy clothing, especially warm clothing for this cold weather. I want people who don't have that ability to still be able to have warm clothing. I want them to have what I have, to be as warm as I am."