Land & Energy Management major to begin in fall of 2014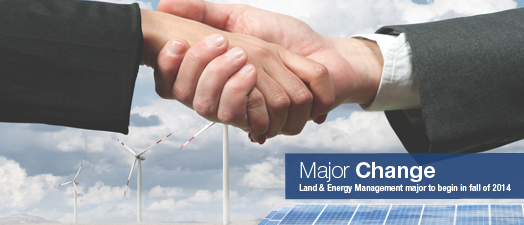 Beginning in the fall of 2014, the Department of Business and Economics at Marietta College will be offering a Bachelor of Arts degree in Land & Energy Management.
Designed in consultation with the American Association of Professional Landmen, this new option will provide expertise in the acquisition of sub-surface exploration rights and allow Marietta graduates to seek challenging careers as exploration landmen.
"As the worldwide demand for energy resources continues to grow, we felt a keen responsibility to expand on our existing expertise in Petroleum Engineering," says President Joseph W. Bruno. "Our new Land and Energy Management program will turn out graduates prepared to make substantial contributions to the ongoing debate regarding resource use, property rights and energy policy. Our unmatched combination of Petroleum Engineering and a strong liberal arts foundation will serve our students very well."
Marietta's program is both "business based" and "liberal arts based," and is positioned well with one of the nation's top Petroleum Engineering programs.
Debbie Lazorik, Chair of the Department of Business & Economics, says the Land & Energy Management major is designed to meet the needs of the growing industry of professional land management.
"The curriculum includes a rigorous business core along with a required internship. Both of these features will position our graduates for jobs upon graduation," she says. "With the growth of the Marcellus and Utica shale activity, land professionals are in high demand. We believe this major will help to serve that need well into the future."
Dr. Bob Chase, Chair of the Department of Petroleum Engineering & Geology, is pleased to see the College add this major.
"I believe our Land & Energy Management program at Marietta will help fill a real need in Ohio and the Appalachian basin. The American Association of Petroleum Landmen (AAPL) has been encouraging us for two years to get a program in place," he says. "The program will take advantage of our expertise on the energy side and integrate strong core liberal arts components in ethics, energy and business law, communication and negotiation. We plan to seek accreditation for the program in the very near future with the support of the AAPL."
Dr. Karyn Sproles, Provost and Dean of the Faculty, was pleased to see the collaboration of faculty from different departments as they debated and developed what she believes is a strong program that expands on the College's strengths as a contemporary liberal arts college.
"Land & Energy Management is a growing field that we anticipate will be in great demand as we explore and diversify our energy resources regionally and national. It is a natural extension of our strengths in Petroleum Engineering, Geology and Environmental Sciences," she says. "A truly interdisciplinary program, it pulls together a wide range of knowledge and skills from written and oral communication to business and law. It is an excellent option for students interested in the petroleum industry — as well as other energy areas such as wind and solar — who want options beyond engineering."
For more information on the Land & Energy Management program, contact the Office of Admission at 1-800-331-7896.