Library hosting exhibit featuring Krause Collection art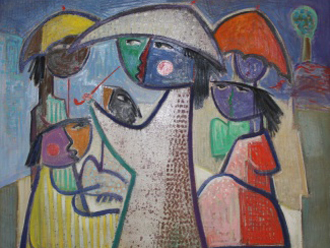 Beginning in November 2014 and extending through the Spring Semester, the Marietta College Legacy Library will be hosting Modern Art from the Krause Collection, an exhibit of four contemporary paintings from around the world. The paintings are available for public viewing in the Schwartz Fireplace Lounge on the first floor of the Legacy Library.
This display, consisting of works ranging from Puerto Rico to New Zealand, Israel to India, reveals the eclectic interests of the donor, Dr. Richard M. Krause '47. Studying medicine after Marietta College, Dr. Krause served as Assistant Surgeon General in the 1970s, and led pioneering research on the AIDS epidemic and coronary disease. An art enthusiast and ardent collector, Dr. Krause recalls that an art exhibition he saw as a student in Marietta College kindled his love for museums, displays, and collecting. 
Paintings on exhibit include:
Indian School
Holy City of Benares, India
20th century
Watercolor
On loan from Dr. Krause
Angel Botello
Puerto Rico, 1913-1986
Umbrella Family
Oil on panel
Marietta College Permanent Collection, Gift of Dr. Krause
New Zealand School
Still life with Lilies and Fish
1995
Oil on canvas
On loan from Dr. Krause '47
Shraga Weil
Israel, 1918-2009
The Artist's Studio
Serigraph
On loan from Dr. Krause '47
The exhibit is available whenever the Legacy Library is open to the public. Please check the library calendar.