'Lost in Translation' exhibition opens Jan. 17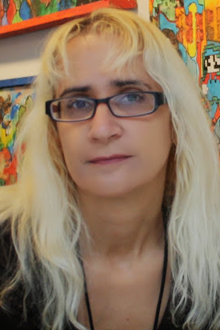 Marietta College Art Department continues its exhibition season with Lost in Translation a solo exhibition by artist Mona Gazala. The exhibition will be held in the Atrium Gallery on the third floor of the Hermann Fine Arts Center.
The exhibition runs from Jan. 17 to Feb. 14. A catered reception for the exhibition will be held from 6-8 p.m. Jan. 17.
Gazala was born and raised in the rust belt city of Cleveland, Ohio, by Palestinian immigrant parents. As an artist, her visual cues have come mainly from the beauty in post-industrial decay and reconstruction, combined with images from antiquity and archaeology — drawing a clear connection between the two. Gazala is not only an artist but an arts advocate who founded and directed the Cleveland West Art League from 2010-13, and is the present owner and curator of Second Sight (Second Site) Studio in Columbus. She also currently sits on the board of the German Village Art League and the Franklinton Arts District.
Lost in Translation includes a survey of past work, most of which incorporates and reinterprets text and words from books and other sources. A great deal of work also reinterprets iconic images from ancient art and archaeology. In addition, the exhibition will feature a new installation work entitled "Bodies at Rest: Bound Up in this Place." This new work makes lyrical ties between lath pulled from a gutted home, mummiform images, and modern day displacement issues.
The exhibition and reception are free and open to the public. Regular gallery hours are 9 a.m.-10 p.m., Monday through Friday, and 1-10 p.m., Saturday and Sunday. Hermann Fine Arts Center is handicap accessible.