Marietta's Education Department receives $223,000 Incentive Grant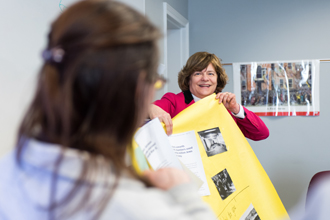 Marietta College's Education Department learned today that it was awarded a $223,000 incentive grant from the Ohio Deans Compact on Exceptional Children.
The funding will support the redesign of Marietta's Early Childhood and Intervention Specialist programs through the adaptation of a merged/blended dual licensure teacher preparation model.
"In addition to supporting course and program development for the dual early childhood — intervention specialist teaching license, this grant will enable Marietta to strengthen and expand upon our current clinical practice partnerships with area schools," said Dr. Dottie Erb, Professor and Chair of Education. "Funds will be used to provide opportunities for joint professional development for mentor teachers and education faculty and instructional resources and technology to enhance work with teacher education students. Additionally, grant funds will assist us in developing recruitment materials designed to attract top teacher candidates. We are excited about this opportunity to further ensure that our teacher education graduates have the expertise to address the diverse needs of children in their classrooms."
Eight Ohio institutions of higher education were awarded grants to support substantial restructuring and redesign of existing teacher or principal preparation programs. The Compact seeks to better prepare future educators to more effectively meet the instructional needs of all students, including those identified as students with a disability and other traditionally marginalized groups of learners.
All Ohio four-year institutions of higher education (IHEs) with teacher and/or administrator preparation programs were eligible to apply for awards under the Compact request for application, which was released in September 2015. The work of the Deans Compact is coordinated through the University of Dayton School of Education and Health Sciences Grant Center, located in Dublin, Ohio.
"We commend the institutions that participated in the incentive grant application process for their commitment to preparing Ohio's future educators with the competencies and dispositions needed to effectively teach and support all children," said Kevin Kelly, Dean of the University of Dayton School of Education and Health Sciences. "The funded projects will further the work begun in 2013 to develop more inclusive models of preparation that have the potential to significantly improve results for all Ohio children, regardless of their disability, cultural, or socio-economic status."
Marietta College currently prepares teachers in early childhood education, mild to moderate intervention specialist, middle childhood education, and the adolescent young adult fields of English language arts, social studies, mathematics, biology, chemistry, and physics. Marietta College's education program is approved by the Ohio Department of Higher Education and nationally accredited by the Council for the Accreditation of Educator Preparation.