Marietta adding Entrepreneurship minor in Fall of 2016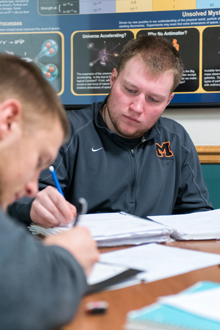 Marietta College's emphasis on fostering an entrepreneurial spirit amongst the student body took another step forward today with the announcement of a new Entrepreneurship minor.
The 21-credit hour program will begin in the fall.
"First, let me tell you what this minor is not. It is not a minor in Business Administration or Small Business Management," said Dr. Jacqueline Khorassani, Chair of Business & Economics. "Rather, the minor is designed to encourage, motivate, and empower students to actively look for and identify problems (opportunities) within or outside an existing for-profit or non-profit organization. Students will then be given the necessary tools to solve those problems in a way that is appreciated and rewarded in the market place."
Ron Patterson, Vice President for Enrollment Services, said there is an increase in demand by current and prospective students for a program like the one Marietta is adding.
"We are creating a place that will allow entrepreneurship and education to co-exist," he said. "At Marietta College, we understand that entrepreneurial thinking is a mindset. With our new minor we will be able to manifest the entrepreneurial spirit across all majors and programs."
In 2014, the College received a $200,000 grant in support of the Appalachian Center for Global Entrepreneurship from the Arthur Vining Davis Foundations' Board of Trustees. The new minor, which is designed to expose students to the mindset and behavior of successful entrepreneurs, is an extension of the Center.
"The minor is set up to help students develop innovative and transformative skills necessary to start and/or grow an organization," Khorassani said.
Therefore students are expected to learn to recognize and evaluate opportunity, turn ideas into valuable good and services, and engage and persuade stakeholders.
Dr. Janet Bland, Vice President for Academic Affairs and Provost, is excited about the new offering for all Marietta students.
"Entrepreneurial thinking is about engaged creativity, about identifying a problem — in the non-profit sector, in business, in society, even in a neighborhood — and seeing that problem as an opportunity for change and improvement," she said. "While this minor would certainly enhance a degree in business, we believe that any major would be enhanced by this course of study, because an entrepreneurial mindset can help you make a difference."  
Students who choose this minor will be required to take Entrepreneurship 101, Entrepreneurship 301, Accounting 201, Management 381 and Communications 314. Also, depending on a student's major, they will take two of the following courses: Communications 209, Communications 211 or Leadership 103, Graphic Design 220, Graphic Design 250, Economics 211, Leadership 307, Management Information Systems 220, Management 301 or Management 386.
For more information: Dr. Jacqueline Khorassani, khorassj@marietta.edu or (740) 376-4621.
TOM PERRY