Marietta adding Organizational Social Responsibility program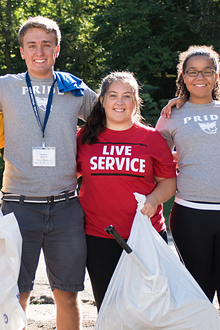 In an era when corporations are being asked to look at carbon accounting, approach financial planning through the lens of sustainability and minimize environmental impact, Marietta College is excited to announce a new minor and certificate in Organizational Social Responsibility.
Dr. Gama Perruci, Dean of the McDonough Center for Leadership and Business, said the new program, begins in the fall.
"This is a cutting-edge program that will give students a strong foundation in this booming field," Perruci said. "Organizations are clamoring for employees who are well versed in the latest thinking in this area. Our OSR graduates will certainly be prepared to contribute actively to organizations' social responsibility initiatives."
The new program, which will be housed at McDonough, is a strategic partnership across campus that includes Petroleum Engineering, Communication Studies, Leadership, Education, Biology and Environmental Science.
Ben Ebenhack, Associate Professor of Petroleum Engineering, was one of the key leaders of the new initiative during its development phase. He is confident the new OSR program will equip students from a wide range of disciplinary backgrounds to take a role in optimizing Social Responsibility initiatives.
"Whereas most contracts between host governments and companies in the extractive industries began to include requirements for investment to support local development for the past couple of decades, the planning to optimize those investments remains in its infancy," he said. "In light of the enormity of some international project budgets, the Social Responsibility investments present an opportunity to support significant — and sustainable — development."
The certificate (13 credit hours) is designed for students who have a general interest in Organizational Social Responsibility issues. The minor (19 credit hours) is for students from any major who are interested in developing a more thorough understanding of OSR issues and applications than offered by the Certificate.
"Sustainable Development is a sweeping goal, which needs input from engineering, social sciences and humanities," Ebenhack said. "Marietta College has chosen to seize the opportunity to take leadership in this emerging interdisciplinary field. It is noteworthy that, even before the minor was established, Marietta had drawn attention from the corporate world and another major academic institution as a potential partner in planning and optimizing both the theory and application of Social Responsibility optimization. This can add a very marketable skill to the portfolios of students from any major at Marietta."
Perruci said he is already looking to develop partnerships with corporations.
"This will allow us to offer projects for students to deepen their understanding of Social Responsibility," he said. "Social Responsibility is just emerging, and we believe some sort of credentialing expertise in the subject may be highly sought after by employers."