Marietta alumni share some wisdom with the Class of 2017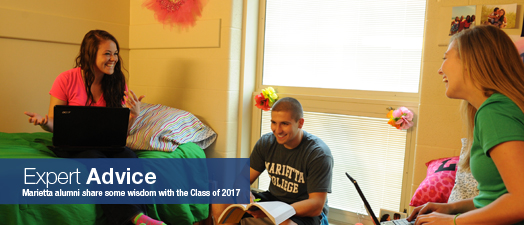 Before Anna Jo Gill '12 moved into her freshman room in the fall of 2008 as an EXCEL Leadership student she received some advice that made the third floor of Elsie Newton "the best floor in all of freshmen housing."
"I can't remember who told me, but they said to get a door stop and keep my door open whenever I was there to help with making friends," Gill says. "Others on my floor, whether following my example or similarly motivated to be open and welcoming, kept their doors open as well. It became easier to pop in someone's room to ask where to find something on campus or what time we had to be in McDonough for the next day's activities."
Gill was one of more than 50 alumni who responded to two different questions posed on Marietta's official Facebook page that we hope will benefit the Class of 2017. The first question was, "What should you REALLY bring to college your freshman year?" and the other one was, "What are the things you have to do/see in your first year on campus?"
While most colleges do an excellent job of telling new students what to and what not to bring (e.g., alarm clock, surge protectors and small ironing board), they don't always share the more intimate items that can really make the adjustment to moving onto campus easier.
So who better than to offer advice than those who moved onto the Marietta campus 50 years ago or just last fall.
Gill's advice was exactly what we were looking for and she provided us much more detail when asked via Facebook (of course). Her simple 99-cent doorstop helped her make some lifelong friends during her four years at Marietta.
"Gradually, we would stay longer to chat and hang out. We were united in being new and clueless, but also in desiring to form real relationships with those on our floor," says Gill, who earned a Bachelor of Arts degree in Middle Childhood Education. "I remember one night late that week, being in the room at the end of the hall with some girls. We were laughing and talking about the day, and I looked around and had a revelation. I put two-and-two together, realizing that all of the girls in the room at that moment, the same wonderful people I was getting to know through EXCEL, were also living on my floor. I realized they were here to stay. It was a reassuring moment that I was going to be part of a community at Marietta College."
Other members of The Long Blue Line (and some current students) offered other ideas on how to lure prospective friends into your world.
Kristin Runion Meeks '04 says it is best to use something sweet. "M&M's, guaranteed to be everyone's new friend."
Taylor Mary Bugglin '14 (New Concord, Ohio) says there are more ways to find new friends than just food.
"Items to lure in neighbors: movies, TV, DVD player, some folding chairs (store under your bed), and a candy dish. Invite random people from your floor to come watch movies. Meet people," Bugglin says. "A willingness to go to events even if you can't find someone to go with you. You can go to some things alone, you know. Had I not gone to see Steve Moore '13 play banjo alone, I would know almost no one. If I were to trace a chain of how I met my friends, 90 percent of them would start with the people he introduced to me — all because I didn't worry about not knowing anyone to go with me."
Naturally, some of the sage wisdom were the not-so-basic survival tips.
"Duct tape," says Allison Kramer '12. "It may be just the thing to fix the light that breaks, or the hanger that you have to use because you can't afford to buy more."
During those study breaks and down time, video games are still popular. So following the advice from Cole Turner '14 (Wapakoneta, Ohio) is valuable.
"Bring batteries," he says. "During week two when everybody's Xbox controllers die you will be a hero."
Others were more philosophical.
"The resolve to never stop learning," says Alicia Bergman Hassman '91. "And of course, have some fun while doing it! Leave the fear behind so you can explore whatever opportunities come your way, or those that you go find."
Nikki Hannaway '16 (Columbus, Ohio) added, "A willingness to change from the person you were in high school. It's time to be the person that you've always wanted to be."
And once you get here, don't forget to get outside of your room.
"Jump from Ohio into West Virginia — back and forth — on the bridge. Go to all the shops and little restaurants in town," says Becky Weaver '97. "Really try to integrate not just into the College community but into the community of Marietta. The biggest difference I can see between those who had an OK four years and those who LOVED College was how much they embraced all the great things about Marietta, Ohio. Trust me, there are a ton of us out here who think of moving back often!"
Welcome to Marietta … Class of 2017.