Marietta bids farewell to Class of 2015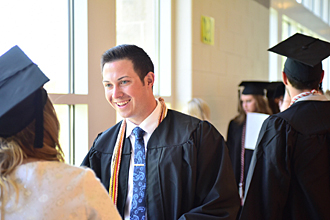 John Beale '71 has never been shy of taking a risk, and he wanted to make sure Marietta College's Class of 2015 understood why it is important to embrace those opportunities when they come around.
"I think it is important to recognize that the road to success in life involves some courage and the willingness to take a chance. In doing this one should understand that nothing is ever guaranteed and that we should not seek perfection — leave perfection to God," said Beale at Marietta College's 178th Commencement on Sunday, May 3, in the Dyson Baudo Recreation Center. "In making decisions, never expect to have all the answers — however you must be prepared to make decisions with sufficient information — never perfect information — it does not exist because when you think you have all the information, something happens to change the situation. All decisions also involve some element of risk. There is no such thing as no risk — it does not exist."
A few of the risks Beale said he has taken during his life were when he came to Marietta in 1964 as a 16-year-old exchange student, quit a job in Barbados to go to Brazil for a job even though he couldn't speak Portuguese and finally when he took an appointment as Barbados' ambassador to the U.S. — a position he still serves in today.
"I had no previous training in diplomacy and Washington is recognized as the most important ambassadorial position as well as the most competitive post with some 190 embassies all vying for space/recognition," he said. "I accepted the challenge without knowing what I would be confronting. Once again my attitude was do your best and learn as you go."
Student Senate President Taylor Myers (Beallsville, Ohio), who took first prize in the Jewett Oration, was never afraid to take risks during his four years at Marietta College. Even on one of President Joseph W. Bruno's first days on the job, Myers took a chance and knocked on his door.
"My sophomore year I dressed up as Uncle Sam to help register students to vote. After registering a couple hundred voters I got the bright idea of going to President Bruno's Office to grab a picture. Now I never met President Bruno before that day—he was new to campus and I just started really getting involved," Myers said. "On my way to the President's office I ran into Dr. (Mark) Miller. He agreed to accompany me on my journey and so we went up to President Bruno's door and I knocked three times. He answered and then I walked in, handed Dr. Mark Miller my phone, and asked President Bruno for a picture for the yearbook. He questioned why the yearbook was taking photos on my cell phone. I replied, 'I'll tell you when you're older.' I walked away with a new profile picture and a great story. My friends were amazed I did this and at dinner that night they questioned if I thought about the consequences of this spur of the moment decision."
Myers was one of 300 graduates on Sunday who are finished taking risks at Marietta College, as they prepare to start their careers or go on to graduate school, law school or medical school. But President Bruno did remind the newest members of The Long Blue Line to not forget their alma mater and to return to campus as often as possible.
"Please do stay in touch, and share with us your successes in later life. You are now, and will continue to be, the best proof of the wonderful work done here by our faculty, our staff, and by generations of Marietta students," Bruno said. "I know many of you came to us as first generation students, or from families of limited financial means. But as of today, you join the ranks of the privileged in our society. You hold a degree at a time when the United States will be facing a tremendous shortage of workers with that level of training. And yours is not just a degree, it is a Marietta degree. Use it well. I know you will."
Members of the Class of 2015 received their diplomas from President Bruno and Interim Provost Miller during the indoor celebration. The day was another beautiful Marietta day as a few clouds dotted the sky as temperatures reached 73 degrees.
Myers' first-place oration was titled "Lessons Learned As A Pioneer." Myers talked about how this year's graduates have outgrown Marietta because of everything the College has bestowed on each student. Eric Miranda-Martin (Olmsted Falls, Ohio) finished second with "By the Numbers: The Impact of the Class of 2015."
Lisa Roberts (Parkersburg, W.Va.) earned valedictorian honors, while Sean O. Kuhn (North Huntingdon, Pa.) is this year's salutatorian. The Class of 2015 honored one faculty member — Dr. Jamie Moshin, Assistant Professor of Communication Studies, as he was presented the Outstanding Faculty Award.
Marietta College's Symphonic Band, under the direction of Marshall Kimball, played the academic procession and the recessional. The Marietta College Concert Choir, under the direction of Dr. Daniel G. Monek, performed "Invictus" and the alma mater.
At the conclusion of the ceremony, the graduates and their families gathered either on Fenton Court or The Christy Mall for snacks and a chance to share in the joy of being together as the Class of 2015 one last time.
RELATED LINKS
Photo Gallery 1
Photo Gallery 2
President Bruno's Charge to the Class of 2015
Ambassador John Beale's keynote address
Taylor Myers' Jewett Oration
Eric Miranda-Marin's Jewett Oration
Alumni Welcome
178th Commencement program