Marietta celebrates 12th Physician Assistant graduating class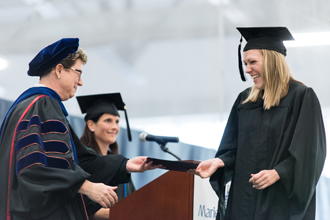 The 36 Physician Assistant students who graduated from Marietta College on Saturday, July 18, joined a special group of The Long Blue Line.
It was the 12th graduating class and they join just 279 others who have earned the degree from Marietta — bringing the total of Marietta PA graduates to 315. Family and friend joined the newest graduates to celebrate the special moment inside the Dyson Baudo Recreation Center.
Four students — Marci Estock (Louisville, Ohio), Alyse McNeill (Pittsburgh, Pennsylvania), Brian Peppel (Columbiana, Ohio) and Amanda Swickard (Alexandria, Ohio) — were inducted in Pi Alpha Honor Society. Joining them as an inductee was 2011 graduate Zachary Rich.
President Joseph W. Bruno, Provost Janet L. Bland and Program Director Miranda Collins all spoke during the ceremony.