Marietta College to add Engineering Leadership Certificate Program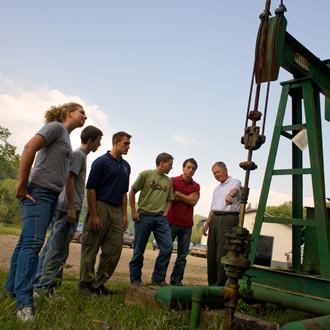 Recognizing the market demand for leaders in the engineering world, Marietta College will begin offering an Engineering Leadership Certificate Program starting in the fall of 2014.
The College's Curriculum Committee approved the new certificate program in October.
"While we expect our engineers to have technical expertise in their field, we also know from our alumni that they will face many leadership challenges after they graduate," said Dr. Gama Perruci, Dean of McDonough Center for Leadership and Business. "Through this new certificate program, Marietta College is building on its strengths in Petroleum Engineering and Leadership in order to offer a cutting-edge opportunity for our students."
Perruci said only a few undergraduate programs in the country offer this type of curricular combination.
"Most of these programs are at the graduate level. We are very excited that our students will be able to develop their leadership skills while going through our undergraduate engineering program," he said.
Perruci said students in the program will take 16 credit hours in courses like Engineering Reasoning, Global Leadership and Economic Analysis and Investment Decision Methods. The students will also be required to complete 50 hours of community service.
"In a larger sense, this certificate allows students to see the connections between their studies and their work after graduation. Graduates will be prepared to enter the engineering profession as agents of change with a grounding in specific, identifiable leadership skills that fit well with their training," Perruci said. "The certificate also promotes a greater degree of collaboration between the Petroleum Engineering major and Leadership. Beyond the logistics of accommodating more students, we also see this new certificate as a new initiative that will bring further distinction to Marietta College."