Marietta College adds Coordinator of Digital Communications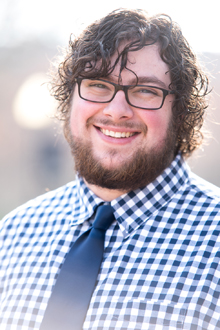 Nate Knobel, who developed his skills in online communications as an undergraduate and in the professional world, recently joined Marietta College as the Coordinator of Digital Communications.
Knobel, who started on Nov. 30, is part of the Office of Strategic Communications & Marketing, which is Marietta College marketing and public relations center.
Just prior to Knobel joining Marietta, the College completed the first phase of a website redesign. Knobel will play a critical role in the development of the second phase, which includes migrating the old site into the new responsive design.
"We're excited to have someone with Nate's creativity and marketing skills in this position," said Tom Perry, Executive Director of Strategic Communications & Marketing. "Our goal with the new site is to profile the campus, the community and academic programs that will increase awareness among our key audiences. Nate understands our goals, and we believe he will help us achieve them."
Knobel, who earned a Bachelor of Arts in Art at Doane College in Crete, Neb., moved to the Marietta area in the summer of 2014. He founded Knobel Photography in 2011 and moved the business to Marietta. He previously served as a freelance photographer for the College, and continues in that role for ClutchMOV and Ohio Magazine.
He was the Editor-in-Chief of Doane's 1014 Magazine, which replaced the yearbook, and served as a staff photographer for the student newspaper. He was also a student employee in Doane's Office of Strategic Communication.
Knobel lives in Marietta with his wife, Laura. Laura is Marietta College's Coordinator of Campus Involvement and Community Coordinator.