Marietta College to be recognized as a Tree City USA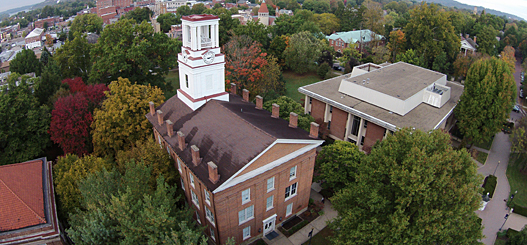 Marietta College will be recognized as a Tree Campus USA today in the Southeast Ohio awards ceremony hosted by the City of Athens Tree Commission and the ODNR Division of Forestry.  This is the first time Marietta College has been honored with this nationally recognized award. The City of Marietta was also recognized as a Tree City USA for the 36th consecutive year.
The awards will be presented to the Tree City USA communities by the Ohio Department of Natural Resources, Division of Forestry at the Ohio University Ridges Auditorium. The title of "Tree Campus USA" will be bestowed upon the College community for its ongoing efforts to maintain and improve the quality of life for residents and visitors through a comprehensive street tree management program. The Tree Commission and the municipal government guide the program.
The Ohio Department of Natural Resources, Division of Forestry acts as a guiding hand in helping a community to become qualified as a Tree City USA. The Urban Forester recommends a community to the Arbor Day Foundation for this standing. In order to achieve the title and the honors, a community must meet four standards: a Tree Ordinance; an active Tree Commission or forestry department; a comprehensive urban forestry program supported by a minimum of $2 per capita; and an annual Arbor Day proclamation and public observance.
The state of Ohio currently boasts the greatest number of Tree City USA communities in the country with a grand total this past year of 250. This marks Ohio's 34th year as the top Tree City USA state, according to the Ohio Department of Natural Resources' (ODNR) Division of Forestry. Ten of Ohio's Southeast communities are Tree City USA communities. All will be recognized for their achievements at the awards program on April 29 in Athens at the OU Ridges Auditorium.
For additional information about the Tree City USA program or the Arbor Day Foundation, visit www.arborday.org. Marietta College also has a Tour of Trees for the community.