Marietta College hosts Meaningful Life Fair at DBRC on Oct. 19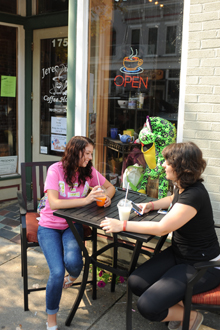 What does it mean to live a meaningful life — and how does one make life meaningful? What does it look like to live life to the fullest?
Marietta College students will explore answers to these big questions during the Meaningful Life Fair from 5-7 p.m., Monday, Oct. 19, in the Dyson Baudo Recreation Center. 
In the interactive event, campus and community members will share how they've found meaning and purpose in life through their vocations and avocations—from becoming a director of a museum after years as a teacher to encouraging others by making and donating blankets.
Among those participating in the Fair are City Council Member Roger Kalter and Academic Support Coordinator Keira Hambrick.
Kalter thrives on turning problems into opportunities, whether surmounting the physical and financial challenges of biking around the world or organizing 2,000 volunteers to complete community projects without any financial resources. "The impossible simply takes two days longer," he says. 
Hambrick's desire to conquer her fear of heights led her to aerial silks, a form of acrobatics that involves suspension from the air. From aerial silks she has learned that "when I am willing to struggle, to practice, and to learn, I can do anything." She teaches aerial silks, empowering others with that knowledge.
The Fair celebrates the First Year Experience theme of "Choices for a Meaningful Life Start Here." According to Associate Provost for Undergraduate Education Suzanne Walker, students have been "challenged to consider how their experiences in and outside of the classroom and the choices that they make" prepare them to live purposeful, multifaceted lives.  
The event compliments The Work author Wes Moore's Oct. 19 Esbenshade series presentation at 7:30 pm in Fenton Court. All First Year students read The Work. During his presentation Moore will elaborate on the its core message that when people pursue passions, take risks, and overcome failure they will "find ways of not just working to live" but also discover "the work of (their) lives."
The Meaningful Life Fair is a co-sponsored by the Office of Academic Affairs and the Office of Campus Involvement, and is supported by a Walmart Community Foundation Grant.