Marietta College Music Department announces Faculty Recitals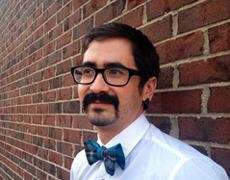 Marietta College's Edward E. MacTaggart Department of Music is pleased to announce two upcoming faculty recitals.
On Tuesday, March 22, Dr. Jeff Manchur (piano) will perform "An Ode to J.S. Bach (without actually playing J.S. Bach)," at 7:30 p.m. in the Alma McDonough Auditorium.
Lindsey Goodman (flute) will perform "Reach through the sky," at 4 p.m., Sunday, April 10, in the Alma McDonough Auditorium.
Manchur will present a solo piano recital and the program will consist of three very different works. Most traditional will be a late work by Ludwig van Beethoven, the Sonata in Ab Major, Op. 110, which Beethoven composed when completely deaf.
Manchur will then present two works by living American composers, Richard Danielpour's Piano Fantasy and Frederic Rzewki's De Profundis. The Rzewski is a dramatic and moving work, combining music and theater as the performer sings and narrates while playing. The text is derived from Oscar Wilde's work of the same name, a letter written while the author was incarcerated.
Manchur joined the faculty at Marietta College for the spring 2016 semester as a Collaborative Pianist and Instructor, having previously served on the faculties of Bowling Green State University and the Toledo School for the Arts.
Originally from Canada, his early studies were with Sandra Dowhan in Dauphin, Manitoba before completing a Bachelor of Music with Greatest Distinction, studying with Joan Miller at Brandon University. Graduate studies took him to the University of Nebraska-Lincoln to work with Paul Barnes. His love and respect of traditional classical music led him into the world of new music, searching for fresh ways of musical expression beyond the conventional boundaries imposed by current customs of classical music.
In May 2015 he graduated from the Doctor of Musical Arts in Contemporary Music program at Bowling Green, where he studied with Thomas Rosenkranz and visiting professor Robert Shannon of Oberlin Conservatory.
Performing the work of contemporary composers and combining it with the classical canon is one of Manchur's specialties. He has performed Morton Feldman's iconic four-hour and 45-minute-long "For Philip Guston" (the subject of his doctoral dissertation) with Chamber Cartel in Atlanta and regularly performs new works on the toy piano (he owns two), performing across the United States, at the inaugural Omaha Under the Radar, and the BGSU, Studio 300, and Tutti New Music festivals.
Academically, he has presented papers at the University of Toronto, Trinity College, Dublin, and the University of London. More recently, he has received grants from the Manitoba Arts Council and in 2014, served as an artist in residence at both the Brush Creek Foundation for the Arts and the Hambidge Center.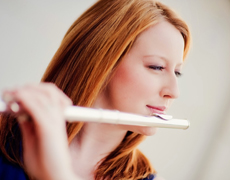 On Tuesday, April 10, Goodman will present a flute recital celebrating the release of her debut solo CD, "Reach through the sky," which is available on New Dynamic Records beginning April 17. The program features all works newly commissioned from American composers, including four works from the new CD: Grant Cooper's "Other Voices...Fantasy for Flute," Rob Deemer's "The Road from Hana," Jeffrey Nytch and Jessica Melilli's "Hand Covenant," and Judith Shatin's "Penelope's Song."
Also on the program are two world premiere performances, Linda Kernohan's "Demon/Daemon" and Elainie Lillios' "Sleep's Undulating Tide." Pre-release copies of the CD will be available for sale at the recital.
Marietta College's applied flute instructor, Goodman is known for her "generous warmth of tone and a fluid virtuosity" (Charleston Gazette), and for her "impressive artistry" (Tribune-Review), "agility, and emotion" (Pittsburgh Post-Gazette). Renowned for her "brilliant," "bravura performances" (Tribune-Review) played with "flair and emotion" (Gazette), Goodman is in high demand as a soloist, chamber collaborator, orchestral musician, teacher, and clinician.
An avid performer of new music, "flutist Lindsey Goodman appears to know no fear in tackling the most demanding music" (Tribune-Review). A strong advocate for emerging composers and electroacoustic, interdisciplinary, or multimedia works, Goodman is an active commissioner of new pieces, having given 85 world premieres, including 30 solo and chamber compositions written especially for her.
Goodman is in her 15th season as solo flutist of the Pittsburgh New Music Ensemble, a group with whom she has recorded two CDs and a DVD, made two international tours, been featured 11 times as soloist, and currently serves as a member of the board of directors. A champion of living chamber music, Lindsey, with musical partners Scott Christian and Anne Waltner, is co-founder of ASSEM3LY, a flute, percussion, and piano trio championing both master and emerging composers for the unique instrumentation.
Goodman, with collaborator Robert Frankenberry, is also co-founder of Chrysalis, a transformative duo commissioning works for singing flutist and singing pianist.