Marietta College serves lunch to people in need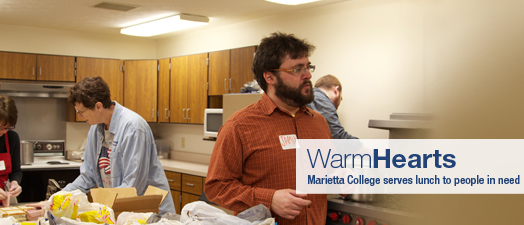 Esther Starner was exactly what the lunch line at The Daily Bread Kitchen needed.
The cheery 9-year-old daughter of Dr. Liane Gray-Starner, Associate Professor of Communication, spent Wednesday morning with her mother and other Marietta College employees and students at The Daily Bread Kitchen serving a free lunch to local people in need of a meal and a little fellowship. Her smile and light conversation with guests brought a great deal of warmth to the food line.
"We had a two-hour delay for school," says the third grader. "And I like meeting new people, so I came here with my mom."
It was the second time this school year Marietta College's Office of Civic Engagement provided the weekly meal at the soup kitchen, located in Harmar Village. Another meal by the College is planned for April 10, during Hunger and Homelessness Week.
Starner's job for the morning entailed serving potato chips and saltine crackers to guests, who also dined on grilled ham and cheese sandwiches and tomato soup. During her down time, Starner picked up another job.
"My mom asked me if I wanted to go around and see if the people wanted me to fill up their cups to drink," she says.
Cristie Thomas, Civic Engagement Coordinator, organized the volunteer event, focusing on pooling the faculty and staff who completed the A Campus of Difference diversity training in December. Twenty volunteers consisting of students, staff, faculty and administrators participated in the service project — the first time a cross-section of campus has participated in the same Office of Civic Engagement volunteer effort, Thomas says.
"Part of the philosophy is 'everything is grounded in experience'," Thomas says. "Service projects such as what we're doing with The Daily Bread Kitchen reinforces what is taught in the classroom; it brings it to life. Plus, obviously, it's important to serve your community and to be an active citizen."
Volunteers began working in the soup kitchen at 9 a.m. to prepare for the luncheon. More than 150 people were served during the event.
Dr. Jamie Moshin, Assistant Professor of Communication Studies and Assistant Director of Forensics, was among the first group of Marietta College workers to arrive.
"I was a part of the Diversity and Inclusion trainer training, and so I was asked to be a part of this," Moshin says.
Moshin adds that the people who underwent the training showed an interest in promoting service to others and a commitment to social justice; volunteering to serve at The Daily Bread Kitchen further emphasized that purview.
He spent the morning grilling sandwiches in the main kitchen, working alongside Dr. Richard Danford, Vice President for Diversity and Inclusion, who prepared fresh fruit servings and filled soup containers for the bagged to-go lunches.
"My parents are involved with the Harvest of Hope in New Matamoras," Danford says, "so this type of service is something my family is quite familiar with…(The Daily Bread Kitchen staff) have these lunches pretty well organized. They've got an effective system going on here and it makes it very simple for the volunteers."
The Office of Civic Engagement applied for grants to purchase the food served Wednesday, and also received a boost when Parkhurst Dining offered two large vats of tomato soup. Adria Handley, Director of Retail Operations for Dining Services, helped orchestrate and serve the meals.
"I met with Cristie to see how Dining Services could better line up our donations and how we can more effectively tie into the College's hunger initiatives," Handley says. "We are also encouraging members of Dining Services to participate in these types of volunteer efforts."
Linda Schaad, Chair of the Daily Bread Kitchen, is grateful for the College's help.
"We plan for 250 people each week, accounting for our guests who come through the line, the take-out lunches and our volunteers," Schaad says. "Sometimes, we almost run out of food."
Hannah Davis '16 (Wheelersburg, Ohio) was among some of the students who spent time serving the community a hot lunch. The Environmental Studies major, who is pursuing minors in Leadership Studies and Energy Systems Engineering, spent the morning in class before serving drinks to people going through the food line.
"Cristie sent me an email asking if I could help with the Daily Bread Project," Davis says. "I volunteer with ReStore (a non-profit group working to make downtown Marietta a Main Street community), so I work more with the businesses in Marietta. This was a chance for me to see this side of Marietta — to be around the people of this city."
Though Davis had no preconceived notions about what working the soup line might entail, she was surprised to see so many children in the crowd.
In addition to providing fellowship and a good meal to members of the community, the volunteers providing prep work were also able to interact with the regular volunteers at The Daily Bread Kitchen.
"I really enjoyed doing this," Moshin says. After spending about two hours volunteering, Moshin returned to campus to teach a class. "To be honest, I really need to do more of these types of things on a regular basis."